I finally got my hands on a FNH SCAR 17, or SCAR Heavy as it's also called.  Retailing for 2899.99, it's not a cheap rifle… it's not the most expensive one out there, but is it worth the asking price?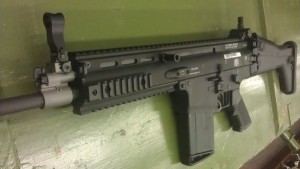 It's a "Nice" rifle. But it's not almost 3 Grand worth of nice. It's freaking Injection Molded Plastic with some Stamped parts and a Mediocre Barrel… with Proprietary Expensive Magazines. If it has anything about it that is an actual tangible advantage to other 7.62mm Weapons – is that the SCAR is a very lightweight gun for it's size…. because it's plastic.  Since when did plastic become worth as much as Titanium?  Is it the notoriety of SOCOM affiliation?  No, really, is it?  Because there is another FNH .308 semi auto rifles that are also used by SOCOM in even more limited secret squirrel numbers… The FNH FNAR.  More accurate.  Less money.  And in my opinion a better rifle… but that's another topic.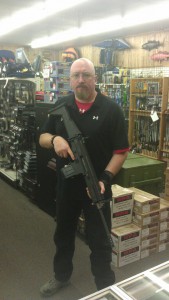 I like the SCAR 17 though.  It's cool and different, and would make for a great mountain assault rifle.  If I was asked to patrol the mountains on foot with a small team, the SCAR 17 might be a great option for that.  But this gun isn't worth almost 3 Large… Not even close. This is an 800 Dollar gun with 2000 Dollars worth of Gee Wizz. The trigger sucks, the sights suck, the action is about as smooth as an out of the box WASR-10, and the reported accuracy is average for a DPMS Carbine.  Not something I'd personally spend my money on…. not that much money.  I'd rather have Joe at Crusader Weaponry build me a custom SR-25 rifle, light weight, 16″ barrel, with accuracy like a laser pointer.  But that's just me.  Now, if FNH was more reasonable on the price… say 1499.99, that would be a much better price level and I could get behind the SCAR.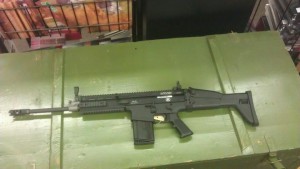 There is one more thing about the SCAR 17 though.  It's rare and exclusive, giving it an air of superiority based on that fact alone.  Like early iPod or iPhone adopters, they could be snobbish about it… but now everyone has iPods and iPhones and it's cooler now to own a Droid phone.  (argue that in another thread I'll start in a moment)   That isn't going to happen anytime soon with the SCAR 17.  It's going to always remain a rare find and highly sought after.
You know what… screw it… if I had a spare wad of cash and already had a Crusader Broadsword – I'd freaking have a SCAR 17 in a heartbeat.  Wouldn't even have to think about it.  I'd have Joe trick it out, sure, but I'd still get one in an instant.  Who am I kidding?  Why?  Because it really is freaking cool.  It's sexy looking and it's full of potential violence… and that is just what I want to send my money on – Sex and Violence.  Ultimately, all true red-blooded American Males do to.