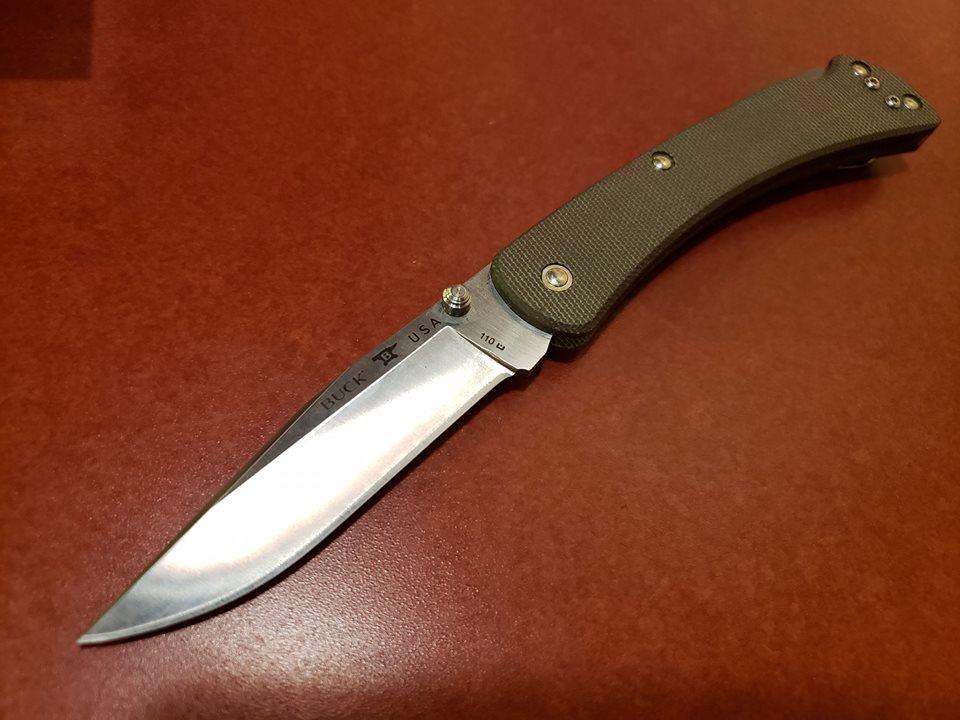 In 1964 Buck Knives introduced the Model 110 Folding Hunter. The knife that became not just a classic, but the most popular folding knife ever made. It has handsome lines, and sharp looking brass bolsters with wood scales. And the blade locked, which was practically a novelty then. The knife proved to be a strong and reliable tool that every outdoorsman wanted.
The problem that it has though, is that it's rather heavy unless you carry it in the belt sheath… Because you had to. Some years ago, Buck made a Ecolite version, which was much lighter and better suited for everyday carry. But some guys didn't like the Paperstone scales, and it didn't have a clip. I for one love the Ecolite and wish they still made them.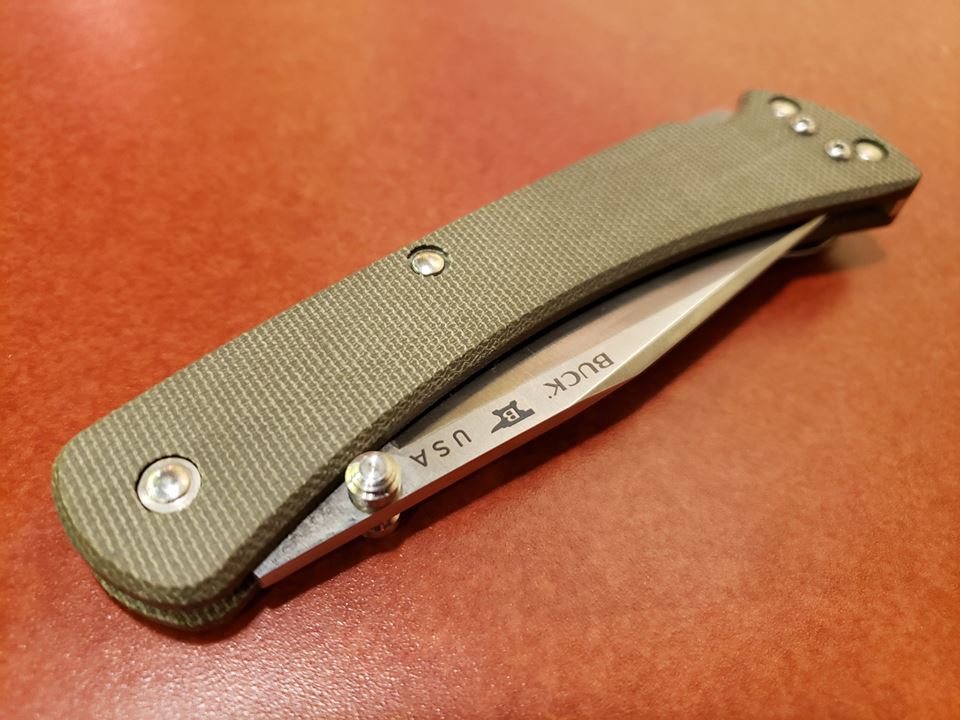 Buck has now released the Slim Hunter Pro version which takes even more weight out of the knife, and adds that Pocket Clip we've been waiting for. And the name is quite fitting… The knife is very slim, and very light, and it works incredibly well for the purpose of packing every day and all day. It also adds something we've wanted all along too. Thumb Studs for easy one handed opening.
Now, I know someone in the comments will say that you could always open a 110 Folding Hunter one handed, easily. By gripping the blade and flicking the handle down. Yes. And I've also seen guys flick that knife across the room when they lost their grip doing just that. I'm talking about safely and securely opening the knife. And I love the way it opens too… With an authoritative snap when the lock engages. It's satisfying in the same way a pump action shotgun is satisfying when you rack the slide. It gives you that feedback and confidence that work is about to get done.
The Elephant in the room though, is that pocket clip. It's works fine, and gives a nice deep carry. It doesn't make any hot spots really in the hand when you are using the knife. It's a good clip functionally. The problem though is that it's this huge fat thing that detracts from the simple elegance of the 110 design. If someone out there was in the business of making replacement clips, something that could replace this thing would be a winner product to make. Because I'd buy one in a heartbeat.
The blade is 3.75 inches long, with an overall knife length opened, of just over 8 inches. The steel isn't the normal 440HC BOS. This stuff is the upper scale blade steel, CPM-S30V. Which is fantastic stuff without being too expensive. And then Buck takes that blade and gives it the BOS heat treat process which involves cryogenic treatment to improve the steel even more. The blade shape is reminiscent of the classic 110 Folding Hunter, but slightly different as it doesn't have as much of a Bowie style recurve to the clip-point profile. So the knife doesn't quite have as much of that needle point tip as the old school version, but is still a handsome looking blade.
Buck makes Slim Hunter Pro version of their 112 series as well… Which is just like this but with a shorter blade and even better suited for Every Day Carry than the full sized 110. The 112 version is a great option for those that are considering the Benchmade Bugout, but would rather buy something else due to Benchmade's political SNAFU.
Both versions and different color options can be found at BladeHQ. Amazon, or other fine retailers. This is the knife I've been waiting for Buck to make for a very long time. 30 years? I'm glad it's finally here. I recommend these knives highly. While they are a little spendy compared to the classic Folding Hunter, these knives are certainly better suited to our modern lifestyle and knife habits. Also, these knives are made right here in the USA so your money is going to support American families and not a foreign government that wants to bloody our nose and overthrow the world under their communist flag.