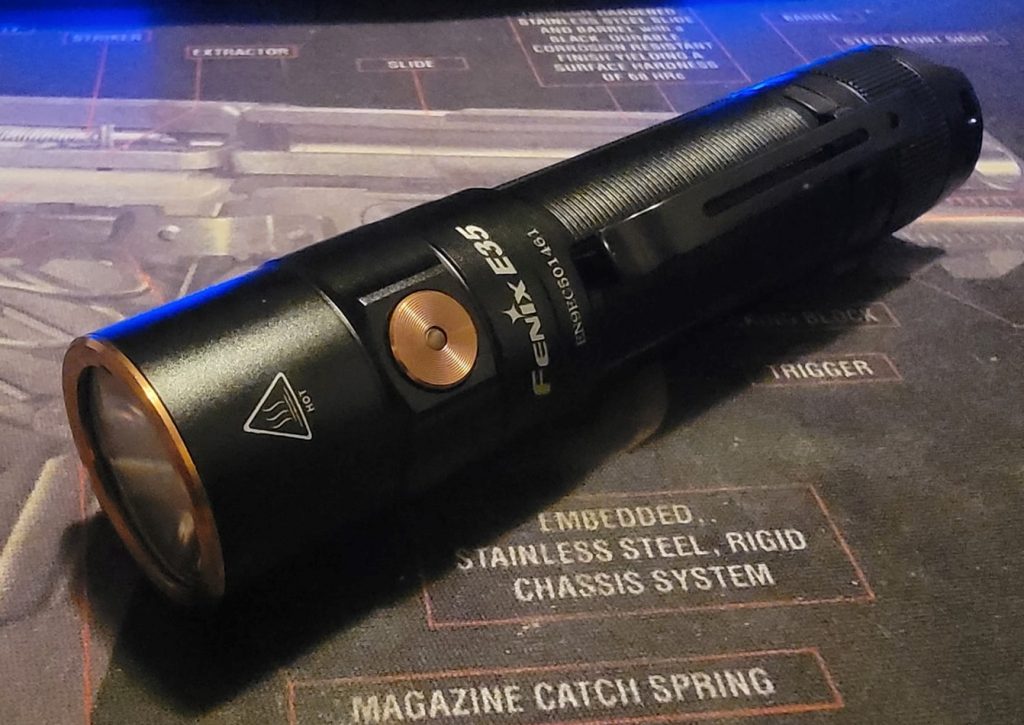 As soon as this little light arrived, I knew I was going to like it. The compact size is the perfect form factor for this type of light. It's not taking its self as seriously as a "Tactical Light" does… I'm not even sure what a "tactical light" really is supposed to be. Because the most Tactical Flashlight was used during the Vietnam War.
But these new fangled LED lights, I have to admit, have some advantages. Size, Weight, Power, and you can recharge them… Okay, so our light throwing technology has come a long way. And I'm grateful. I'm still packing a 1911 though… Two World Wars, bitches!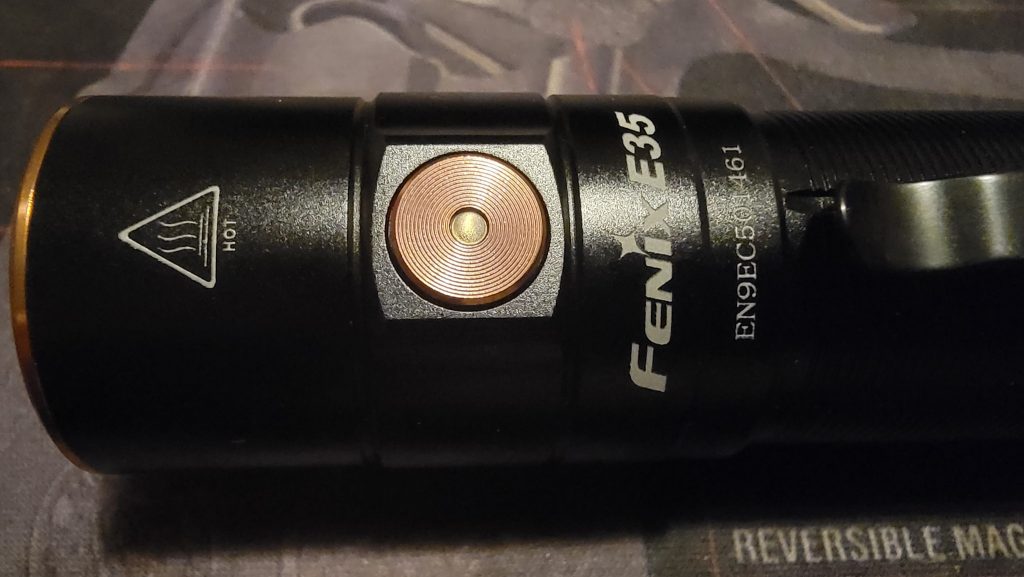 Okay, so one of the reasons I really dig this E35 V3.0 is the fact that it's got a simple button that is intuitive to use. Intuitive is a fancy 2 Dollar word that means you don't have to read the manual. The clip is a good size for securing the light to webbing, pockets or even a belt. The is about as perfect as you can get. This thing even feels good in your hand. It's easy to hold and it's not going to slip out of your grip. This is great. Some tactical lights I know of have gripping surfaces like cheese graters as if you are going to be using a flashlight while your hands are coated in slick blood. Amateurs, that's what your NVG's are for… Kids.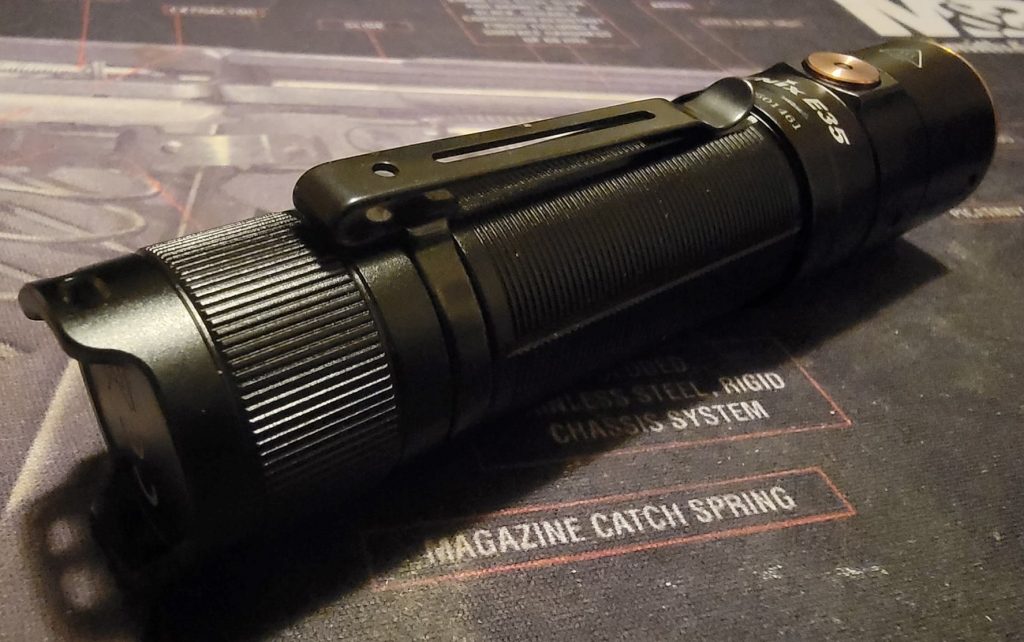 If there is anything I'd change on this light, for a V4.0 version… I'd add small protective ears on either side of the activation button. Partially to protect the button from accidental activation, but also to help index the light in the hand so it's easier to use in the dark before you get the light turned on. You can't really index off the clip as the clip rotates. And really that's my only nit-pick. This flashlight here is damn near perfect. And I don't say that lightly. It even LOOKS cool. And I don't really ever take looks into consideration for something like this. But it's fact. The brass colored button and bezel just make the Light seem that much cooler.
Now this is where… Sorry in advance… The light really shines. 3,000 Lumen output on Turbo with 1 hour and 15 minutes run time. (When I tested mine, I found that it actually ran longer) In High, 1200 Lumens for 2 hours and 40 minutes. That's staggering for a light of this size! 450 Lumens on Medium lasts 7 hours. And to test that I brought it with me to work, fully charged and set it on my desk. It probably could have run longer, but when I clocked out for the day, it was still going strong over seven hours later. I turned it off before it ran out of juice, so I don't know how much longer it could have gone, but my impression is that Fenix's time statements are a bit conservative. Low and Eco modes were not tested for run time, because life is too short and I'm going to take their word for it.
Now, at 50 Lumens, the claimed 50 hours of run time is impressive. 50 hours is a very long time and highly useable if you are in a dark area… because 50 lumens is a good deal of usable light for camp chores after dark, walking a rocky trail, or in a survival situation like being stuck in an underground bunker playing poker with Russian Stalkers. Whatever the situation, 50 lumens for 50 hours is probably going to get you through. Going up to 1200 and you're blinding people. 3000 and your blinding the Search and Rescue aircraft.
In the above photos, you can see the stepped progression of light output. In the Eco and Low modes, my camera's automatic night mode kicked in and helped illuminate the view… You can tell by the orangish light from a street light on the left. So those are not a great indicator of what the light is actually doing. In Medium mode, the 3rd image is pretty true. The light thrown was enough to see quite well at the distance. In High, it was impressive. 1200 Lumens is a lot of light here and was more than enough to see everything. In Turbo Mode, 3,000 lumens was incredible and it made the Guy across the street come out and ask just what the hell I was using. I kid you not, he ordered his own Fenix light off Amazon right then and there on his phone.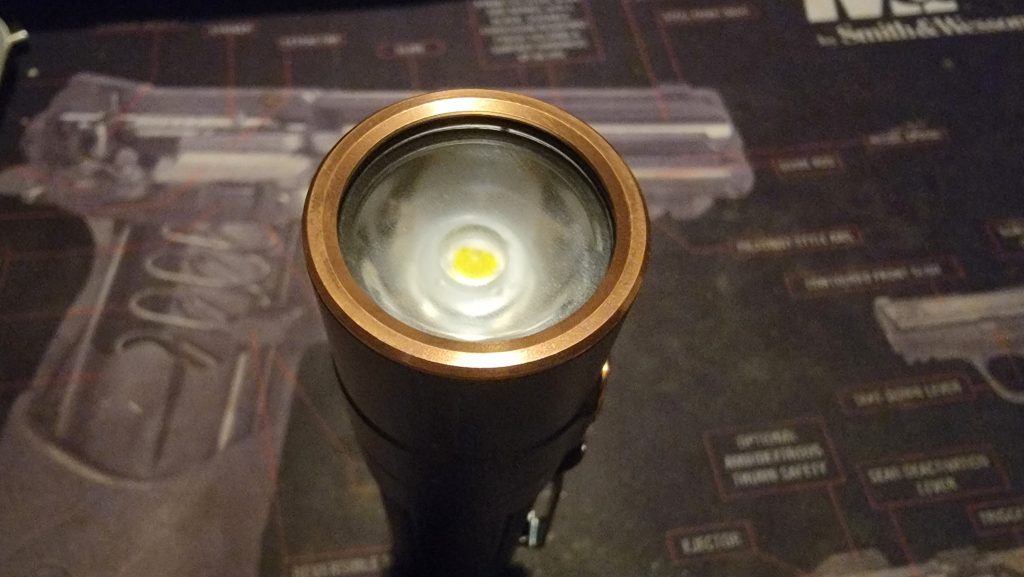 It comes with a USB Type C cord for recharging the battery. A spare O-Ring for the battery compartment seal. And a little strap that I'm never going to use.
So to sum it up, this light is now – hands down – my favorite hand-held light that I have, have ever had, or probably will ever have in the foreseeable future. I like it better than the PD36 TAC light – which is an awesome flashlight. The E35 V3.0 puts out the same light, but it's just a bit more compact and "Friendlier" to use. If that's even a thing. I don't know if that's a fair metric to compare lights by. But I just did. That's my personal opinion. You can form your own opinion by getting one of these for yourself. Click this link here:
Fenix E35 V3.0