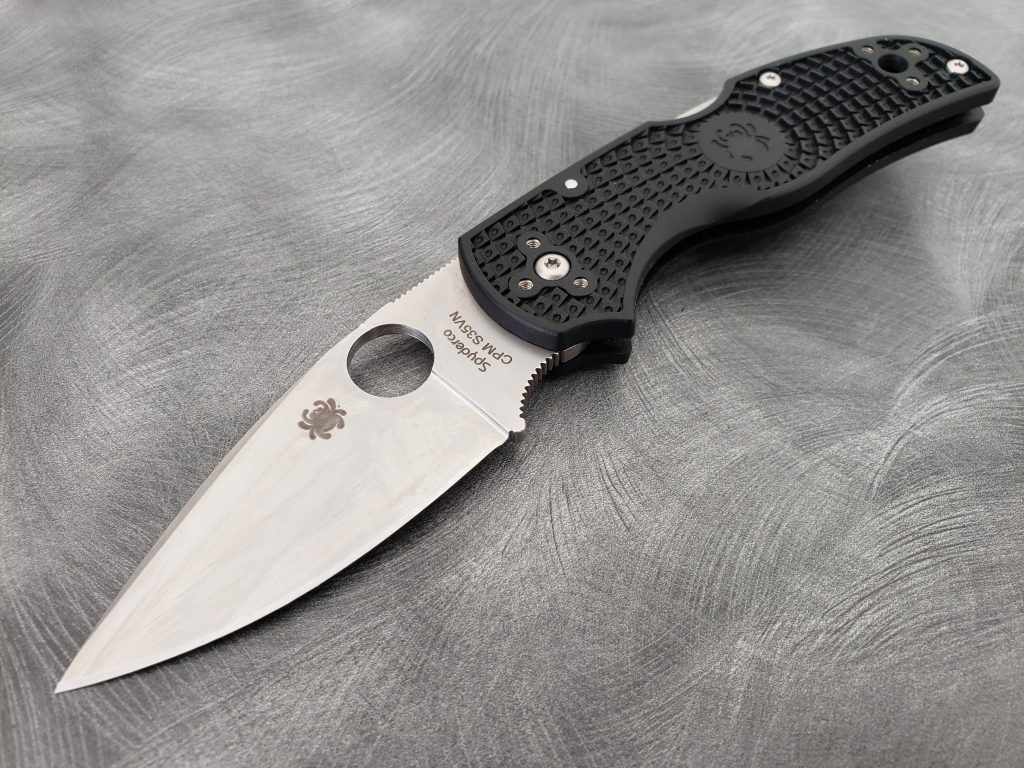 Spyderco's Native has been one of my favorite carry knives since the first version. The Native 5 is a great continuation of that tradition, and yes, it's still a favorite. I like the feel in the hand better than Spyderco's other great EDC folder, the Delica. And for the record, this isn't a 5th edition of it, because there's practically a countless number of Natives out there with a myriad of handle and blade materials in just about every combination you could think of.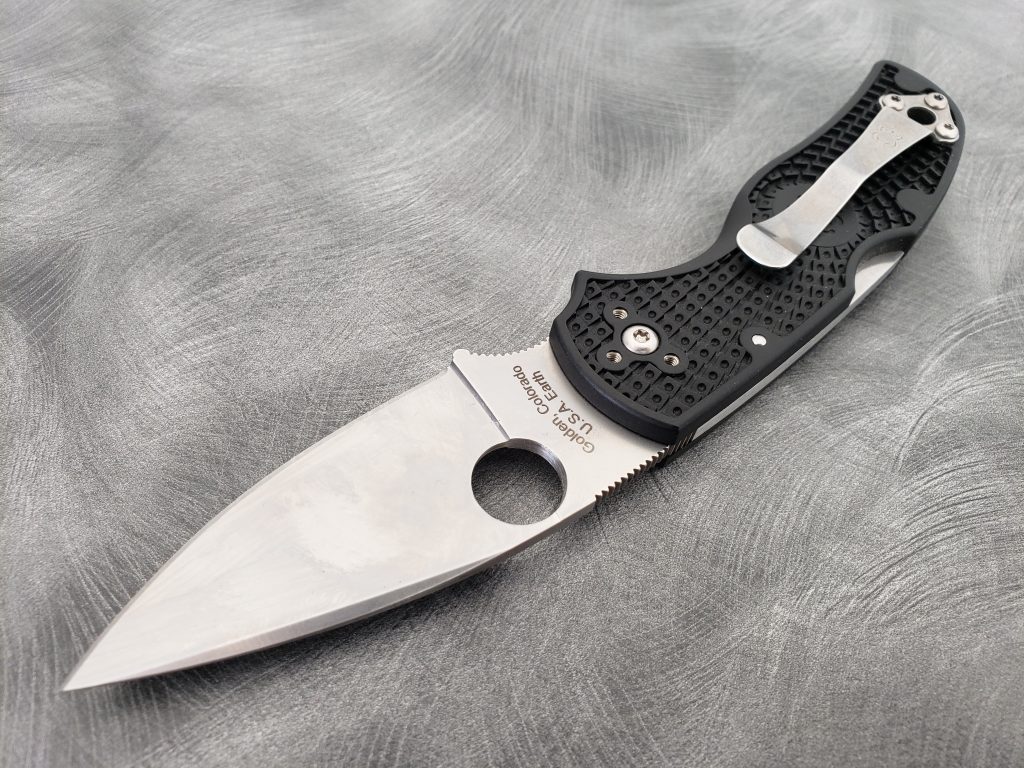 This version is designed to be a light weight version with easy of carry and great EDC properties. Such as a 3″ Blade, and overall length of 6.8″. The weight is only 2.4 ounces. And the blade steel is the delicious CPM S35VN steel. Which is one of the most ideal blade steels out there.
Size wise, the Native has always been a perfect pocketborne companion. Something you could just always have on you. And in the pocket, clipped properly, it still leaves you a pocket you can use for other things, such as car keys. And you wont get any new scars when you reach in to get those keys.
I got into Spyderco when I was going through my Police Academy getting my Colorado POST certification. That was a long time ago. The Spydercos tend to be simple lockbacks, with good blade steels and absolutely wickedly sharp cutting edges. The Native 5 is very very very sharp. One of the very sharpest blades I've ever felt. I've always liked the way one can open and close the blade one handed without much shifting in the hand.
The Clip isn't the lowest or deepest carry. But it is reversible and changeable for tip up or tip down carry, left or right hand carry. Whichever way you want to carry it. And through the hole in the clip and scales… You can run a cord for whatever reason you feel like you need tassels on it.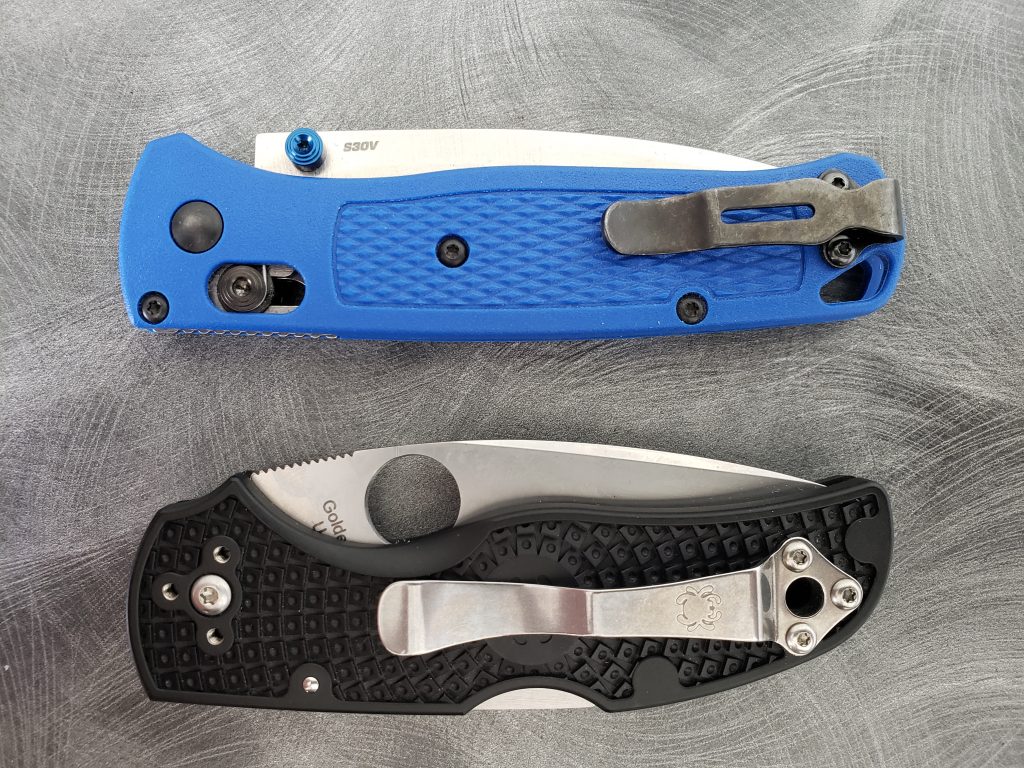 One thing I found on the Native 5 that I didn't like at first, but have come to appreciate it… is the molded in texture. It's a directional pattern than allows it to slide in one direction and really grip and lock-in, in the other direction. So while it's a tough carbon reinforced nylon type polymer… it is strong, and it's not going to slip around at all in the hand.
The #1 Rival to the Native would probably be the Benchmade Buckout. As you can see they are similarly sized, with the Bugout being a little slimmer, and a little lighter, and carries deeper.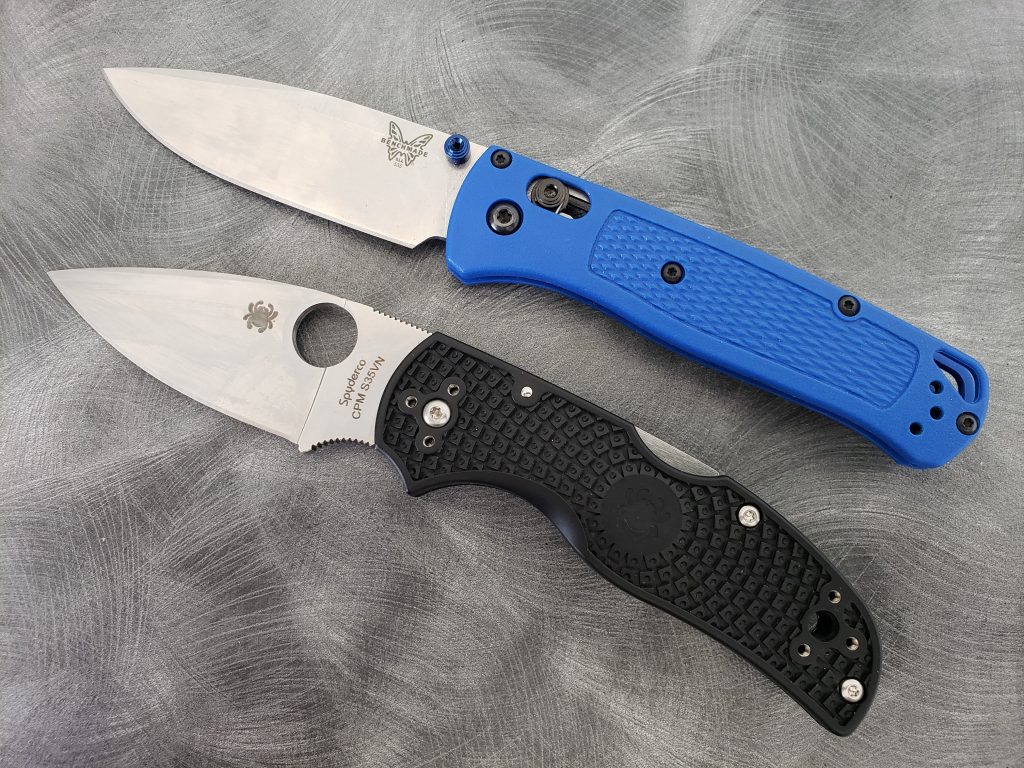 The Bugout is anywhere from 20 to 40 bucks more depending on your retail outlet… And while slimmer and lighter and deeper, I don't know if it's actually worth any more money. Because the Bugout is also a bit more delicate, and can flex too easily when you go to use it for anything more heavy duty than slicing open snacks or throats. The Native for it's small size, isn't actually a light duty knife. You can really use it for some serious work. The finger grooves really allow you to grip the hell out of the knife. So taking away Benchmade's Political SNAFU and comparing both knives on their own merits… I think the NATIVE 5 is the better buy. You're getting more knife for less coin, and most gun owners won't give you stink-eye when they see you're packing a Benchmade.