I know I've been packing a Glock 23 for years… but lately I've been doing that less and less.  Really it's been relegated to Car Gun Status now, so I always have it close when I'm out and about.   But what I carry on my person – that's changed.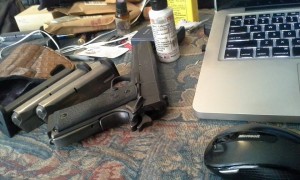 More and more my Go To pistol has been my Beretta 92FS, and I've been carrying my 1911 a LOT more.   As I type this post, it's the 1911 that's sitting by my left hand.   Don't laugh at my desk… I know it's cluttered, but then again, so is my mind.  So it all works out.  That's my beloved GI… which had a light issue with cracking grip panels.  That was the worst thing that could have happened, because dang it… now I'm thinking about changing other parts.  Like a Beaver Tail and a Commander style hammer… and if I am doing that – I might as well change the sear and trigger… You guys know the drill.   The grips were the lid to a bloody Pandora's Box of tweaks.   Why?  Why the hell did I do that? I could have got some double diamond checkered wood grips and have been fine.  But no… I asked my friends for some regular old black plastics… thought I'd cheap out… not thinking about how they fecking changed the whole dynamic of the pistol and it's in my head that I could change other things.
And now I'm looking at the Beretta 92FS and thinking… "You know, Wilson Combat is now making Beretta parts."  They have a slick short reach trigger… No… NO!

No… I'm not going to mess with my Beretta.   That's become the Go To Gun.  My Almost EDC.  I'm not doing that.
But the 1911…  Well… that's different.
I'm thinking why not have some fun with it?  I can detail strip it blindfolded, and that sentimental GI memento cherry has been popped with the black grips.   Why  not?
But you know what I really want to do to it?  Have a Color Case Hardened Finish done to it.   Kinda like this: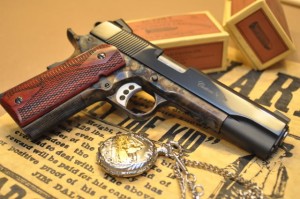 Deep polished blued levers and safety, but the slide and frame – Color Cased.   That is just sexy to me.   I don't know.
What do you guys think?