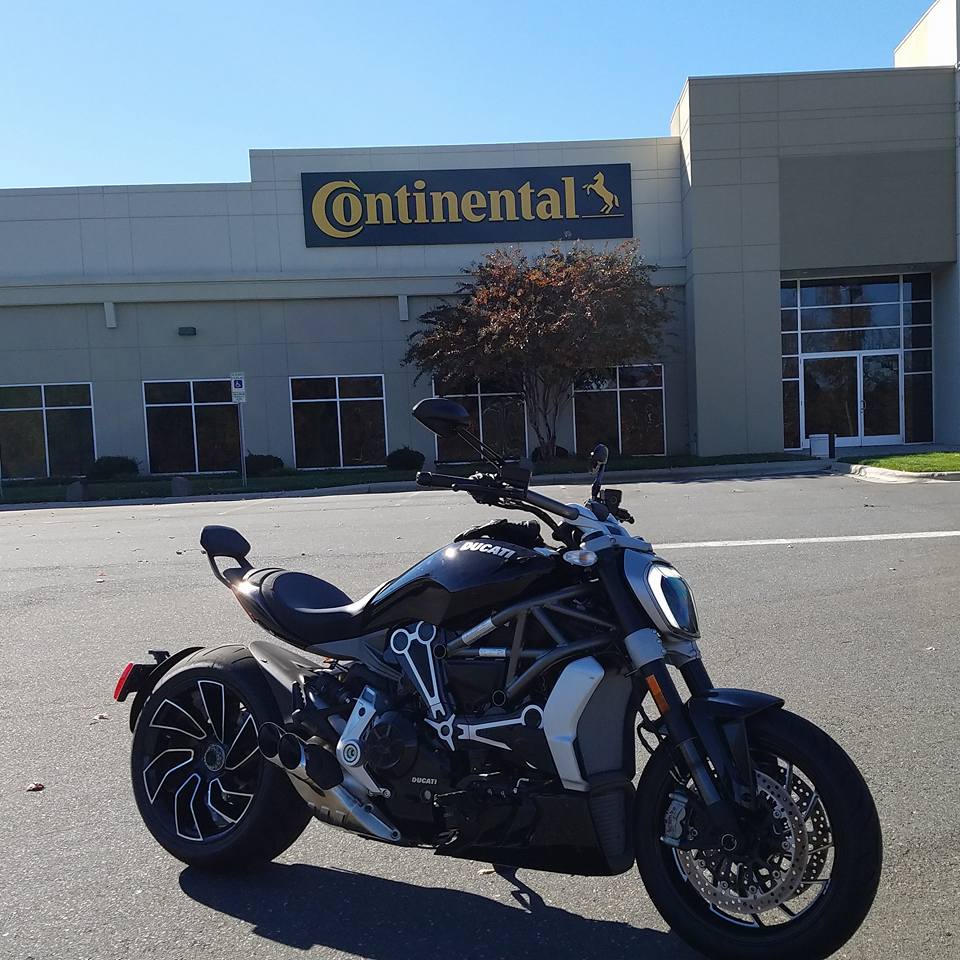 The X Diavel S is one of the most unique bikes on the market.  It's Ducati's first and only cruiser… and really the only thing out there to compete is/was the HarleyV-Rod.  But HD has killed the V-Rod… Because Harley is stupid.  And really, the X Diavel just crushes the V-Rod anyways, so maybe it doesn't matter.
Let me give you my impression of the X Diavel S here.   It is Jack The Riper on two wheels.
On one hand, the bike is surgically precise.  It handles fantastically well thanks to it's heritage and engineering… you are not going to be disappointed here.  And oddly enough, thanks to the wide Drag Bars, it gives you a lot a of leverage that makes it's handling feel Sport Bike Light.  You can pitch it into a curve with little more effort than a thought, and the bike tracks like a guided missile… until you tell it to go a different direction and then it eagerly flicks over to take the new heading.  Now, it doesn't flick as quickly as a sport bike… but it does flick easily, like a sport bike.  There's a difference.  And it's not a bad one.  The X Diavel can carve through an Apex like a clean cut with a scalpel.   Like I said before… Surgical.
On the other hand, this bike is shockingly savage… offering no quarter. Brutal and merciless.  It accelerates harder than anything else I've ever experienced… and I've ridden pretty much all of the most powerful bikes on the market now.   But nothing is like this bike in Sport Mode and using the Launch Control.  Judas Priest… This thing is insane.  It will pull your eyeballs out of your ear holes.   Thanks to the well designed seat, it will keep your ass from sliding off the back.   Pro Tip on the Launch Control:  Hold on tight and grit your teeth.   Because… Damn.   Just trust me on that.
The three ride modes are interesting. Urban mode is the softest and most mild.  Don't use it.  That's not what you bought this bike for. But if anyone else is going to ride it – put it in Urban.  Or if it's raining. That's the only reason to ever use Urban Mode.   Now, Touring Mode is where you want to be most of the time.  Because it just makes sense.  Not sure why they called it "Touring Mode"… But this is where you want to keep it.  It's the medium setting.   It's the every day setting.  Sport Mode?  Sport Mode is the Axe Murderer setting.  It gives you all the power the bike has, all at once.  It also sets the suspension to its stiffest… most kidney and spine abusing. You will feel every bump. Hard. Sport Mode turns the bike from a power cruiser, into a weaponized cruise missile.  Don't use this when you just want to go fast… Use this on Track Day.    Again – just trust me on this.  Seriously.   Your kidneys and your license with thank you.
This bike isn't for everyone. It's not even for most experienced riders out there.  This bike is for those who want a cool comfortable cruiser, but just needs… More.  More of everything.  More speed.  More power.   More passion.  More fury.   This is for guys who turn off alarm clocks with hammers.   This bike is for those guys.