Dear Carolina Drivers, I love you guys.  You guys are some of the best drivers in the Nation.  No, seriously… you really are!  You guys are polite and friendly… you guys let people merge and there are few times when horns get used.   You guys are great.
Save for one thing.   Some of you guys are chronic Left Lane Campers.  You guys are awesome until you get on the Freeway where you move all the way to the left and just camp there.  You guys are going to just set that cruise control to the speed limit, and just ignore the whole freaking world around you.   Or worse yet, you decide to set your pace to the freaking truck right next to you!   Either way, you are in violation of a simple principle…
SLOW TRAFFIC KEEP RIGHT.
Let me make it easy for you.
If there is no one in front of you, and people behind you… You Need to Move Right.
If there are people Passing you on the Right, you need to move to the Right.    Let's give you an example… Look at this picture: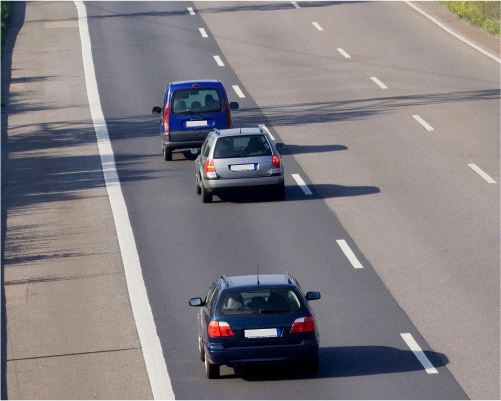 Now… We see 3 vehicles.  A Blue Van, a Silver Car and a Blue Car.
The Blue Van is a LEFT LANE CAMPER.  He needs to move his slow ass over to a lane on the Right.  GTFO of the Fast Lane!
The Silver Car is needing to back off a bit.  But he's trying to communicate to the Left Lane Camper… But you can't.  Left Lane Campers are too busy text messaging to pay attention to actually driving.
The Blue Car, if he's over taking the other two, is probably contemplating moving to the right and passing on the right.  When he does so, the Silver Car is going to be fed up with the Blue Van's bullshit and he's going to move to the right as well, but without looking because he now has anger issues.  As as result, the people in both cars are going to explode and die… all because of the Flaccid Left Lane Camping Sphincter driving the Blue Van.
Don't be a Flaccid Left Lane Camping Sphincter.  Don't make people explode and die… Move to the Right.
Random Image Drop: