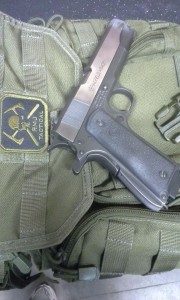 This is my Springfield Armory GI 1911.  I've had this gun for some years now, kept it and enjoyed it as stock, refusing to modify it or change it in any way.  Well, two things happened to while I was in Jacksonville, NC.  The GI style wood grips cracked on me, and before I really "Discovered" Fireclean, it suffered form a corrosion attack on the slide.   So I had to scrub the corrosion off it, and change the grips.
Well, once I had gone and done all that keeping it "stock" just isn't the same anymore.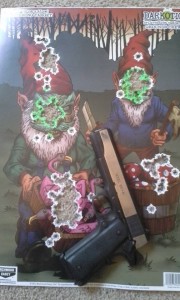 The gun shoots remarkable well for an old warhorse.  I love the fact that even with the old nubbin sights, it's still an accurate shooter.  I fired 100 rounds of standard Winchester White Box 230 grains, and 50 rounds of Hornady JHP's without a single failure.  The gun got hot.  So hot that it was really difficult to rack the slide… but it kept shooting as long as the mag had ammo in it.  It showed no signs of slowing down either.  That was probably due to the Slipstream lubrication, and a good old GI style 1911 working together in harmony.
Here's the one problem I had though.  Hammer Bite.  Not bad enough to be painful, but it was irritating and distracting.  So to solve that problem, I went ahead and ordered some parts from Brownells.  A new Commander style Hammer, sear to match that, and a Commander style drop in beavertail safety.  Wilson Combat parts of course.   They should be here in 4 to 5 days.  Can't wait.   Once those parts are in, my GI will no longer be a GI.  This saddens me a bit.