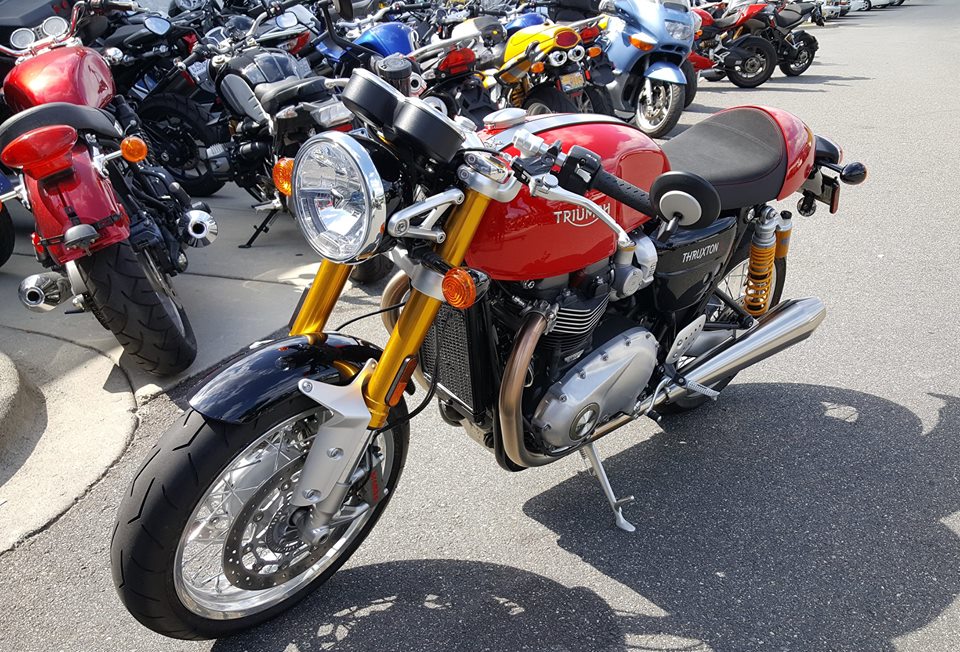 Yesterday I had the opportunity to ride a brand new Triumph Thruxton R 1200.
This bike was absolutely amazing in it's composure and balance. It didn't care what gear I was in… you could lug it… you could wind it out. Six speed transmission and the engine couldn't care less…. Riding position is a bit leaned forward, but not enough that your holding yourself up by the wrists… It's almost a Standard. Very comfortable.
It's so much better than the old Bonny engine, which was an 865… and fine for… the 80's… I guess.  It was fine before… but somehow just a little lacking.  Now, the new 1200 engine – which looks and feels weight wise like the same engine as before… is just so much BETTER at everything.  Better top end.  Better torque.  Better power delivery from idle to redline… it's just all completely better.

Having not ridden in some time, I was kinda nervous. But once I threw a leg over and grabbed those Clip Ons… it just felt RIGHT.
The bike didn't feel like it was in a hurry to go fast – but it was. It cornered easily like you had already done that a thousand times.  The handling was very neutral, with no drama.  It turned in well, with no feeling of sluggishness or twitchiness.  It stayed remarkably stable through the curve and powering out passed the apex.
The suspension was a very nice balance between comfort and road feel… You felt everything, but nothing hurt your spine or your gentleman's nuggets.  The seat feels both firm and comfortable as well, and you could easily spend enough time in the saddle to run from a full tank to vapor.
The bike was just a very pleasant, willing, and spirited companion.