One of my favorite bikes in the world is the Triumph Scrambler.  I love the classic good looks and rugged nature.  And I love the way it fits me.  I love the way I feel on one.  It just works… Very well.  Now, I'm talking about the Scrambler that's based on the T100 Bonneville, with that 865cc Oil-Aircooled engine.  Such a great machine!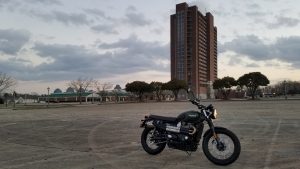 Unfortunately, Triumph killed it in 2016.  After Eons of service, the Scrambler is dead… Long live the Scrambler.   Triumph also killed everything with that 865cc engine.  (Small violins playing)
The reason for that is the Euro 4 Emissions standards which took effect Jan 4th 2017.  So Triumph had to empty the pipeline.  This also meant the death of the Speedmaster through 2017.


Well, Triumph without a Scrambler is just wrong… So they addressed it.  But they did so having listened to the Customers and Critics.  They all said, "The Scrambler is too heavy".  Well, we know that's BS because they all said the same thing about the original BMW GS!  But Triumph decided to do something about it… so they looked at the Street Twin, which uses the same 900 HT engine that they put in the new T100 Bonneville.   This engine is liquid cooled, smoother, starts quick, and thanks to the Ride by Wire system has Traction Control and ABS.  Brilliant!  And the engine gives us more Torque! And we all like Torque, right?  Who doesn't?  If you don't like Torque, you can exit stage left, you Snowflake!


So the new Street Scrambler is lighter, smoother, and stronger.  And it tells you what gear you're in, and how much petrol you have in the tank.  These are nice features.  This is a good evolution.
The new Street Scrambler is taller than the Street Twin, thanks to elevation in the suspension.  The greater ground clearance goes a very long way.  So it feels good.  Like the Old Scrambler that's got into Crossfit… it's lighter and leaner… it feels narrower, and it feels a lot more agile.  This is a good thing.  Because it's actually the better Scrambler than the old one.  On every metric, this is the better machine.  And they even have it in the flat green color.   It's perfect.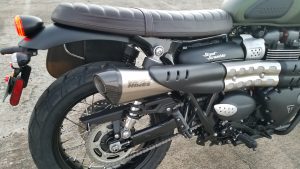 But Perfection can still be complemented with some upgrade parts.
Such as a Vance & Hines exhaust upgrade, a classy looking saddle bag, cool seat, and an engine guard and dress bars.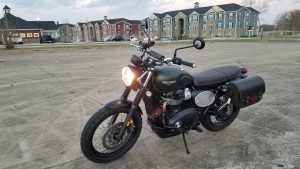 This makes the Scrambler quite the practical everyday bike.  And should you desire to run off into the sunset over the river and through the woods… This bike is fully capable of doing just that.
Let's put it this way… If the Hobbits had these Scramblers, LORD OF THE RINGS would have been a Short Story.