One of my favorite bikes in the world is the Triumph Scrambler.  I love the classic good looks and rugged nature.  And I love the way it fits me.  I love the way I feel on one.  It just works… Very well.  Now, I'm talking about the Scrambler that's based on the T100 Bonneville, with that 865cc Oil-Aircooled engine.  Such a great machine!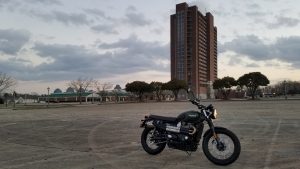 Unfortunately, Triumph killed it in 2016.  After Eons of service, the Scrambler is dead… Long live the Scrambler.   Triumph also killed everything with that 865cc engine.  (Small violins playing)
The reason for that is the Euro 4 Emissions standards which took effect Jan 4th 2017.  So Triumph had to empty the pipeline.  This also meant the death of the Speedmaster through 2017.


Continue reading Triumph Street Scrambler →