The Dodge Challenger is an interesting car.  It's a big car that can go fast.  Fundamentally, that makes it scary.  It's a Muscle Car at heart.  I'm not going to bring up the original Challengers because they have nothing to do with the new ones other than some subtle character lines on the outside.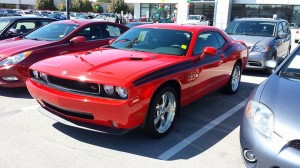 This is the Challenger RT "Classic Package".  Really the only thing classic about it are the throwback style wheels that remind me of all my favorite HotWheels as a kid… I have to say, I really like the look of this car.  Blood Red, with those wheels… It hits a spot with me.  Unfortunately, this car would attract way too much Cop Eye for me to ever have any fun in.    And really that "HEY LOOK AT ME!" color is just not me.  It's not as bad as the bright Orange and Yellow Challengers, but still…. it's pretty bad in the grand scheme of things.  I do like the look though.  Just on someone else's car.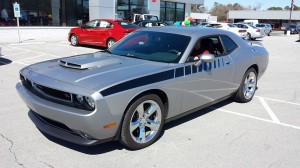 Then I test drove this one.  I had driven a Challenger before, but it was a base model, with a V-6.  That car felt huge and ponderous and it didn't feel all that great.  That hood really felt like it was way out there, and it just felt like I was piloting a barge.   This model though, was different.  The Hemi V-8 really makes this a different car.  And it was a Manual.  This one was better.  This one was the RT Shaker edition.  The Shaker as in the Hood Scoop that would shake in the originals… But it doesn't do that on this one as the hood scoop is basically only a cold air intake.  Which is good.  But not giving you the ram air effect of the original.  So for the most part all it is about is the look.  And it looks good.  The hood scoop is very visible when you are driving.  But not really getting in the way.