The Dodge Challenger is an interesting car.  It's a big car that can go fast.  Fundamentally, that makes it scary.  It's a Muscle Car at heart.  I'm not going to bring up the original Challengers because they have nothing to do with the new ones other than some subtle character lines on the outside.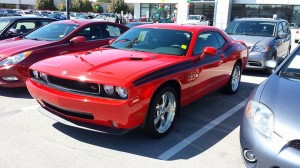 This is the Challenger RT "Classic Package".  Really the only thing classic about it are the throwback style wheels that remind me of all my favorite HotWheels as a kid… I have to say, I really like the look of this car.  Blood Red, with those wheels… It hits a spot with me.  Unfortunately, this car would attract way too much Cop Eye for me to ever have any fun in.    And really that "HEY LOOK AT ME!" color is just not me.  It's not as bad as the bright Orange and Yellow Challengers, but still…. it's pretty bad in the grand scheme of things.  I do like the look though.  Just on someone else's car.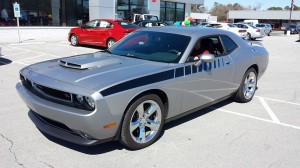 Then I test drove this one.  I had driven a Challenger before, but it was a base model, with a V-6.  That car felt huge and ponderous and it didn't feel all that great.  That hood really felt like it was way out there, and it just felt like I was piloting a barge.   This model though, was different.  The Hemi V-8 really makes this a different car.  And it was a Manual.  This one was better.  This one was the RT Shaker edition.  The Shaker as in the Hood Scoop that would shake in the originals… But it doesn't do that on this one as the hood scoop is basically only a cold air intake.  Which is good.  But not giving you the ram air effect of the original.  So for the most part all it is about is the look.  And it looks good.  The hood scoop is very visible when you are driving.  But not really getting in the way.
This car could really get up and move thanks to the V-8 and the 6 speed manual.  It liked to chirp the tires.  It cornered flat.  It handled speed bumps very well.   And it had a big enough rear seats that two adults had no problem riding comfortably back there.  They had leg room and head room.   That's a key factor for me.  Not that I'd be riding back there myself, but I have boys.  Big boys.
One thing I didn't like about it, and it could probably be adjusted… The Clutch.  It's starts off too high.  My leg had to come off the seat quite a bit to get to the clutch… And maybe that's not such a problem.  But the clutch's engagement was at the top.  This makes fast gear changes and any sort of smoothness pretty much just out of the question.  I've driven farm trucks with a more useable clutch… for me.  This is a personal taste sort of thing, but I like the clutch to do it's thing closer to the bottom of the travel, not at the top.  And I like less travel distance in the peddle too.  So because of this, I think for the first time in my freaking life, I'd have to say I'd take the automatic.  I'm not happy about this.  And I could have just mentioned this, but in my heart I really think I'd have to take the automatic in this car.  This kinda pisses me off.  I had originally said that I could find no fault in the car… but the more I think about it the more this bothered me.  I like to do fast gear changes with a manual and the shifter was good for that… but that clutch peddle wasn't.  For me.
Something about it though… It's still a huge car with a long, way out there hood… which makes it difficult to really live with in the real world of parking lots and stop and go traffic.  And maybe it's not really all that long – it just very much feels like it.  Also, it didn't have the center mounted touch screen infotainment center, and it didn't have a backup camera.  I think a backup camera should be required equipment on anything bigger than a Miata, but that's just me.  But that's not it.  The brakes are good but really not quite good enough and the handling was good, but not quite good enough.   So really the problem that I had was the Shaker was not an SRT8 Package.  The SRT8 Package really is the only way to go in the Challenger… and I can't stress that enough.  If you are going to buy a Challenger, you have to go the extra mile and get the SRT8.  You just do.  The tighter suspension, the bigger Brembo Brakes, and the bigger 6.1 liter Hemi engine that brings the Challenger to it's full potential.  Everything else is just less and lacking.
Now Dodge has a couple versions of the Challenger that look awesome.  The Blacktop Editions are very sexy… all blacked out and sinister with black wheels and tinted glass… They are awesome.  But they are only the RT packages.  Then there is the Redline edition, with a Red stripe around the wheels and a red stripe across the top of the car… it looks cool too, but they are only in the base V6 cars.  These are only cosmetic touches of course… and you are really paying for lesser cars, so don't even look at them.
I'd take an RTS8, with the Shaker hood, with the Classic Package wheels, with the Blacktop appearance package over all of that, and give it a touchscreen infotainment center with XM and Nav and a backup camera.  Then… Then I'd consider the Challenger.