I've had a lot of cars in my driving career.  Mostly German Sports Sedans which were mostly all very good.  Some American Cars, Some Japanese cars Some favorites, some I still and always will miss… and some real dogs.  This post is about those dogs.   My Bottom Three.
First of the Worst Cars:
The Ford Fiesta.  Mine was bright yellow.  It wanted to be sporty, like a VW GTI.  And admittedly it was fairly sporty as long as you never went over 60 MPH.  It's ride could dislocated your kidneys, while at the same time having a remarkable lithe way of leaning away from the curves.   But it was quick so it was still kind of fun.  And then it caught fire.  When the first Batman Movie came out, the Premiere Viewing, I took a girl with me to the movie and about 15 minutes into it, a Fireman came in and asked me if I owned a yellow burning Ford Fiesta.  I don't remember taking that girl out for a second go.  Don't even remember who that was.  But I do remember having to get that car towed home.  And telling Father why the Ford was scorched.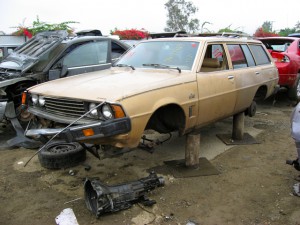 To replace my Fried Fiesta, Granny and Poppa let me have their old Dodge Colt.  It had no style.  It had no speed.  It had no sport.  And it also caught fire.  I was coming home from some church activity with a friend and all the sudden we saw flames through the air vents.  We got out and popped the hood and found the tiny motor was on fire.  My buddy's name was Orrin.  Now, Orrin and I had picked up a couple Big Gulps from the local 7-11.  We were standing there, sipping our Coke's looking at the fire.  Then we just dumped the Coke's on the engine and the fire was put out.  We got back in, and the car started and we drove home.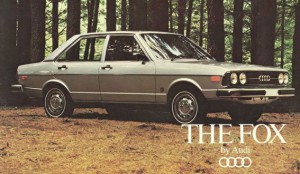 Both the America Cars previously mentioned were had back while I was in Roanoke.  This Audi was one I had in Tacoma Washington.  It was small and very heavy for it's size and powered by little 4 cylinder engine with less horsepower than a donkey.   I seem to remember having three or four of these, but one in particular was Bottom Three material.    I had raced it much more than I should and had blown one cylinder and I had lost compression in another cylinder.  It didn't sound good.  I remember sitting at a red light when a couple very cute girls in a topless Jeep pulled up, all pretty and smiles and waving at me… me grinning back like an idiot… and then one of them said "Your car sounds like my Dad's Lawn Mower."  Then the girls laughed and drove off.  I took my driver's test in this car.  (Yes, I was driving before I had a License)  With the blown engine.  Part the DMV's route was up a hill.  My car didn't have the power to climb that hill even in first gear.    So when I slowed to a stop I apologized and said I had to take an alternate route.  The Tester just smiled and nodded and let me do my thing.   I was thinking I had failed the test so I thought "Screw it" and I let the car roll back a bit and flipped a Rockford Files, ending up in the correct lane in the correct direction and I went around the hill and back to the DMV.  The Tester passed me and loved the way I handled the car.  She actually gave me a hug.   My friends would laugh themselves blue in the face at my little Fox, but it never left me stranded. And it didn't catch fire.