Crusader Weaponry has been in the Shotgun business for awhile now.  This is what we are doing for our customers who demand the absolute best.  We worked on this configuration with leading members of the US military elite.  This gun is now being offered to the American Gun Owner. I am very pleased with these guns, and they are one of my favorite weapons that Crusader offers.  They are not just affordable, but also shockingly effective.  If you can only buy one gun, buy one of these 870's.  The Shotgun offers a flexible weapon system that is simple to use, rugged, and reliable… and you can engage targets as small as Humming Birds, and as large as a Brontosaurus at ranges out to 200 Yards.
Features include a tuned action with our Slipstream treatment.  Rifle sights for greater precision with slugs over the popular ghost ring option.  Improved spring and follower.  Tac Star Side Saddle for flexibility.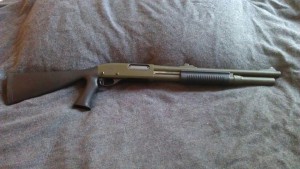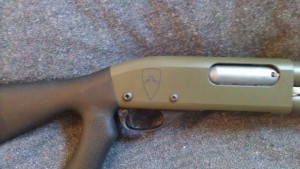 This gun is of course already spoken for.  He's going to be well pleased with it!  We are offering these shotgun for only 795 USD. If you want one of your own, or have any questions about it, contact Joe at Crusader Weaponry.