Ducati has made a very interesting machine.  It's a Motorcycle… but I just can't tell what kind.  I'm talking about the Multistrada 1200.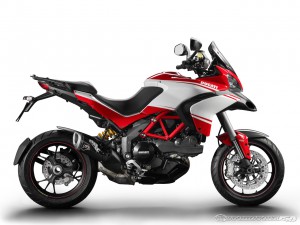 The bike a technological powerhouse.  ABS, Traction Control, and the valve tech that Ducati uses in their racing bikes, just tuned for low end power and smoother riding.  It gives fantastic on road performance… but it isn't a sports bike.
It's more of a Supermoto, or as they call it in Europe, a Motard… or as Sports Riders call it, Motor-Retard.  But the haters can just hate, because Supermotos are just straight up fast and agile where ever they want to go… and they can go anywhere.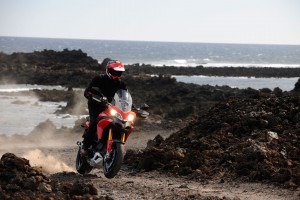 So it's an Enduro?  The Multistrada is very offroad capable… compared to a ZX-10, but not so much compared to, say, a KTM… er… damn near any KTM… Anyways… still, the Multistrada is no two wheeled Jeep, but it's not scared of dirt.  Not at all.    It's more suited to street, but since it can do dirt as well, it gives the Ducati a great deal of versatility.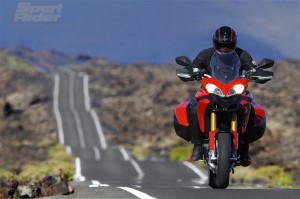 And what I like about the most… it's got legs.  It has range.  You can go anywhere… everywhere… I love that about motorcycles, and this bike can do everything.  It's a bike that either has serious split personality issues, or it's a bike that really can do it all.  Surprisingly, it's not even that expensive.  The new Honda NC700ABS Vanilla is 8999,  and it is heralded as a Bang for the Buck winner…   The Multistrada starts out only Two G's more.  Two G's more for some real performance, sex appeal, and a 1200cc engine that is seriously awesome.
Ducati Multistrada
PRICE
MSRP: $11,999
ENGINE
Type…a-c 90-deg. V-twin
Valve arrangement…sohc, 4v
Bore x stroke…94.0mm x 71.5mm
Displacement…992cc
Compression ratio…10.0:1
Transmissio…6-speed
Final drive…chain
CHASSIS
Weight…486 lb. (wet)
454 lb. (fuel tank empty)
Fuel capacity…5.3 gal.
Rake/trail…24.0 deg./3.90 in. (99mm)
Wheelbase…57.6 in. (1462mm)
Seat height…33.5 in. (851mm)
SUSPENSION
Front…43mm inverted cartridge fork adjustable for spring preload, compression and rebound damping
Rear…single shock, adjustable for spring preload, compression and rebound damping
PERFORMANCE
Horsepower…82.9 hp @ 7750 rpm
Torque…66.9 ft.-lb. @ 4250 rpm
Corrected…1/4-mile* 11.44 sec. @ 113.22 mph
0-60 mph…3.82 sec.
0-100 mph…9.63 sec.
Top-gear roll-on, 60-80 mph…3.92 sec.
Fuel mileage (low/high/average)…33/46/41