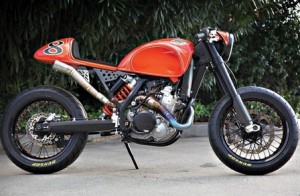 I don't know exactly what this is… But it's a KTM dirt bike of some sort, rebuilt as Cafe Racer.   I don't know why I find this so appealing.  I really don't.  I love Cafe bikes, but mostly those built on big brutal and thuggish engines.  Not angry little Singles.    I bet this would be an absolute blast to ride.
Cafe bikes continue to turn my head more than anything else.  This is in spite of the fact that I couldn't even put my feet on the pegs right now.  My right leg remains uncooperative thanks to a knee that refuses to bend.
Speaking of KTM… My own is ready to be picked up again.  I just have to wait till Tuesday because they are not open on Monday and I couldn't get in there to get it Saturday.    We'll see.  It will be very nice to have my Wheels under me again.  While I can't ride my ZX-11, I can ride the KTM thanks to the position of the foot pegs.    I already miss my ZX-11 a lot.  It's parked in front of Ogre Ranch, sipping on a Battery Tender, waiting for me to come play.  People who don't Ride, just don't understand this.  "Just get a car." They say.  What they are really saying "I totally don't get Motorcycles."  And that's fine…. you don't have to get it.  Just please shut the fuck up then, okay?  Riding is… like Flying.   Next time you go to the Zoo take a close look at the Eagles there on their perches.  They can't Soar like they used to… they are Tethered.  That's how I feel when I look at my ZX-11.  I feel like that Eagle that can't fly.