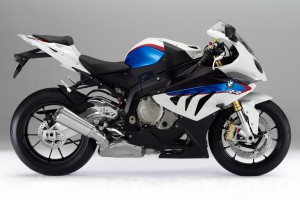 In the last few times I've watched motorcycle racing at M's place, one bike was the consistent performer… This BMW.  See, BMW is mostly known for their Adventure Touring bikes.  Well, if you are into Sport Bikes, when you think of BMW, this is the machine that springs to mind.  During the races is likes to takes a position up near the front… usually second place, right behind the Leader… right in his 6, like an Focke-Wulf FW-190 waiting for the right moment to shoot them down and take the lead and win the race.  We've watched BMW do this to Honda and Aprilia.  While the other bikes are visibly fighting, the BMW Rider looks like he's just out for a cruise… totally relaxed… and then "Okay, you've had enough… Your done."   And the race is over.  It's able to do this because it's hugely powerful and composed… and the BMW pilot is one scary motherfucker.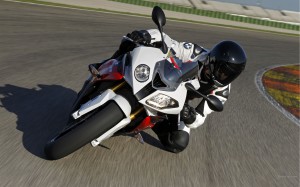 If I could have one bike, given to me for free… and it was the last motorcycle I could ever have and ride… I'd happily pick the S1000RR.  Or even, this is the last vehicle you could ever own… Oh yeah… it would be this bike.  Pure Teutonic Brutality.  Engineered from the ground up Blitzkrieg everything.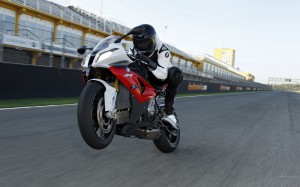 Ounce for ounce, the Germans have never invented anything else so sinister or powerful.  Or as beautiful.  This is Heidi Klum and the Luftwaffe rolled into one.  Look at the shark gill style vents.  That's a warning.  It's also serving a purpose… keeps that Sturmgewehr it uses as an engine cool, by pulling in air and blowing it out and away from the rider.  Then there is the thing with the asymetrical headlights.  That's a one raised eyebrow saying that it isn't going to put up with anyone's shit.
Not from anyone.
2012 BMW S1000RR – American Specifications/Technical Details
US MSRP Price: $15,050 USD
Engine
Type Water/oil-cooled 4-cylinder 4-stroke in-line engine, four titanium valves per cylinder, two overhead camshafts
Bore x stroke 80 mm x 49.7 mm
Capacity 999 cc
Rated output 193 hp (142 kW) at 13.000 rpm
Max. torque 83 lb/ft (112 Nm) at 9.750 rpm
Compression ratio 13.0 : 1
Mixture control / engine management Electronic injection, digital engine electronics with integrated knock control (BMS-KP)
Emission control 2 closed-loop 3-way catalytic converters, EU-3 norm with electronically controlled interference pipe and acoustic valves
Performance / fuel consumption
Maximum speed over 120 mph
Fuel consumption per 100 km at constant 90 km/h Fuel Economy: 41 mpg, at a constant 55 mph
Fuel consumption per 100 km at constant 120 km/h
Fuel type Premium unleaded.
Electrical system
Alternator Three-phase alternator 350 W
Battery 12 V / 10 Ah, maintenance-free
Power transmission
Clutch Multiplate clutch in oil bath, anti-hopping clutch, mechanically controlled
Gearbox Constant-mesh 6-speed gearbox, straight-toothed
Drive Chain
Chassis / brakes
Frame Aluminum composite bridge frame, partially self-supporting engine
Front wheel location / suspension Upside-down telescopic fork Ø 46 mm, compression and rebound stage adjustable
Rear wheel location / suspension Aluminum 2-sided swing arm, compression and rebound damping, high and low speed adjustable
Suspension travel front / rear 4.7″/5.1″
Wheelbase 56″
Castor 3.9″ (98.5 mm)
Steering head angle 65,99°
Wheels Aluminum cast wheels
Rim, front 3.50 x 17″
Rim, rear 6.00 x 17″
Tyres, front 120/70 ZR 17
Tyres, rear 190/55 ZR 17
Brake, front twin disc brake, floating brake calipers, 4-piston fixed caliper, diameter 320 mm, 5 mm thick
Brake, rear Single disc brake, single piston floating caliper, diameter 220 mm, 5 mm thick
ABS BMW Motorrad Race ABS, disengageable, 4 modes to select: Rain, Sport, Race, Slick (optional equipment)
Dimensions / weights
Length 80.9″
Width (incl. mirrors) 32.5″
Height (excl. mirrors) 44.8″
Seat height, unladen weight 32.3″
Inner leg curve, unladen weight
Unladen weight, road ready, fully fuelled 1) 451 lbs (incl. Race ABS)
Dry weight 2) 398 lbs (incl. Race ABS)
Permitted total weight 893 lbs
Payload (with standard equipment) 442 lbs
Usable tank volume 4.6 US Gallons
Reserve approx. 1 US Gallon.