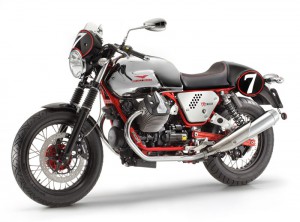 This is a motorcycle that I hate to love and love to hate.  I love Moto Guzzi's, always have.  I love Cafe Racers since the first time I saw one.  So when I first saw this V7 Racer, a factory made Guzzi Cafe – I felt my heart flutter.  It is beautiful.  Under the looks it has some things I really like.  5.8 Gallons in the fuel tank, you could ride this thing as long as your butt will let you.  That V-Twin, facing sideways, allowing that Air Cooling to really keep things cool so when your hot, it's chill and turning some lazy revolutions.
But there in lays the problem… those Revs are not just lazy, but damn near lethargic.  The bike only has  48 Horses and 40 pounds of torque.   What is this?  The 60's?  Come on Guzzi… Well, yes, the machine is running on an electronic fuel injection.  This is an advantage, and should help the 744cc engine crank out more Miles Per Gallon.  Well, 47 to 50 MPG in the highway is pretty good, but not as big of a number as I'd have hoped, especially when the engine is so tired.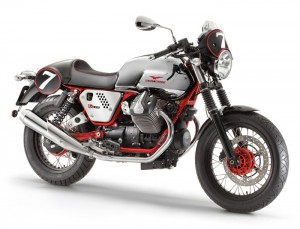 Here's the thing… it's expensive.  10 Large.  It's under powered.  You are not going to be lifting the front wheel very much on this thing.  But there is something about the V7 that wont let me look away.   It's beautiful and innocent… You just want to ride it hard and put it away panting.