I've had a lot of emails from people who have never thrown a leg over a motorcycle, wanting to know where to start.  Some of those emails would have me believe they are actually considering purchasing a new 2012 ZX-14 to "Learn On".  Uh huh.  Yeah, my Dad taught me how to drive in a Formula 1 car too.
If you are going to start to learn, you need to start out with the basics, because I don't need idiots like that jacking up my own insurance.  Get real.  Start simple.  My first bike was quite larger, but it wasn't the first bike I had ridden.  That was a Honda (shocker) 125.  It was fun.  And much faster than my BMX bike or my 10 Speed.  So it was pure thrills on that thing.
Start out with a 250.  But decide if you want to learn on a Sport or a Cruiser.  It's been reported that a full 1/3 of new 250 bikes are being sold to women.  Which is interesting because that's about the same ratio of questions I've been getting.
If you want a Sport Bike, the Ninja 250 is the Tried and True choice for the fledgling Valentino Rossi. They are fun to ride, plenty fast, yet not so powerful as to get out of control in a hurry and put you into a tree.  It's a smart choice.  Riding a Ninja 250 well teaches you technique, body position, braking, and everything you need to learn to go fast and ride safe.  Also, they are bulletproof little machines that you are going to want to keep around.  And they look cool.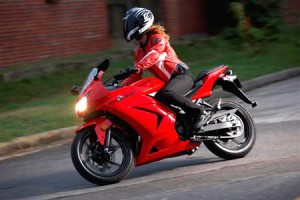 There is another upshot to the Ninja 250.  60 miles to the gallon.  It sips fuel like a china doll at a tea party.  Really I don't think there is a more efficient production vehicle out there that costs so little and returns so much enjoyment.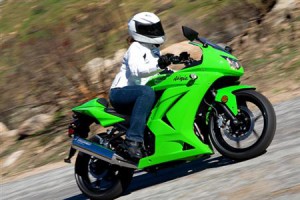 You can have just as much fun blasting through a canyon on a 250 as you can bigger bikes.  You just don't have the blinding top speed that will get you sent directly to jail if you get caught doing it.
Okay, so flying a Rocket isn't your thing?  You want to look at scenery in front of you instead of behind you in the rear view mirror?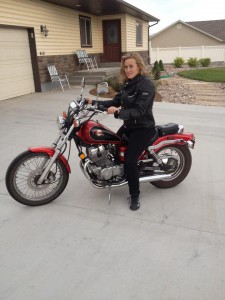 Here's is my beloved Sister on her new to her Rebel 250.  Probably the best Learning Bike ever made period.  Nothing about it is intimidating to a Novice Rider, yet it's still cool looking, gets great fuel economy, and you get pick them up for about a Grand on up depending on Vintage and Miles.  The one thing I've learned about these little Johny Rebs is that they tend to have as much attitude as their Riders. Which means they can have a lot.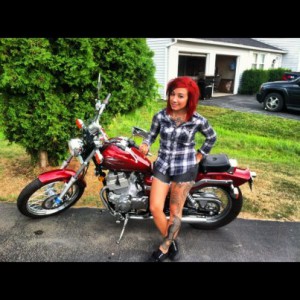 There is nothing to fear on one of these lean machines save for those people who are chatting on their phones and texting when they should have eyes up and hands at Ten and Two.  When you are riding though, you learn to spot those guys a mile away.
These are my two recommendations for Learning to Ride.  I don't care if you are Chick or a Dude, these are where you start.
I know a local guy that's learning, he's spend some extra bucks to get a new Honda CBR250, and I've seen him jetting around town…. he's doing great.  Another guy I know, he picked up a ZX-6.  Two weeks later his bike was totaled and he is on crutches.  I'm not saying you can't learn on a bigger bike, but it's just a better way to start when you start out slow.
Besides… the DMV test is all about Slow Speed and Control in a tight space.  I think the Utah Rider Test is performed in the same space one could park 2 Chevy 2500 Trucks.  It's very tight.  Now if you can master these bikes, then go take your test on a 600 so you are golden on any size bike… but only if you can pass that test.  To do that, you are going to need a lot of practice, and the 250 is a good place to start.