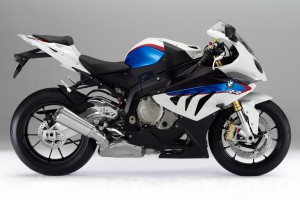 In the last few times I've watched motorcycle racing at M's place, one bike was the consistent performer… This BMW.  See, BMW is mostly known for their Adventure Touring bikes.  Well, if you are into Sport Bikes, when you think of BMW, this is the machine that springs to mind.  During the races is likes to takes a position up near the front… usually second place, right behind the Leader… right in his 6, like an Focke-Wulf FW-190 waiting for the right moment to shoot them down and take the lead and win the race.  We've watched BMW do this to Honda and Aprilia.  While the other bikes are visibly fighting, the BMW Rider looks like he's just out for a cruise… totally relaxed… and then "Okay, you've had enough… Your done."   And the race is over.  It's able to do this because it's hugely powerful and composed… and the BMW pilot is one scary motherfucker.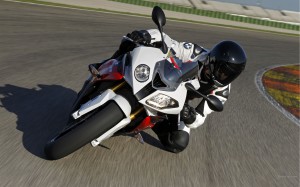 If I could have one bike, given to me for free… and it was the last motorcycle I could ever have and ride… I'd happily pick the S1000RR.  Or even, this is the last vehicle you could ever own… Oh yeah… it would be this bike.  Pure Teutonic Brutality.  Engineered from the ground up Blitzkrieg everything.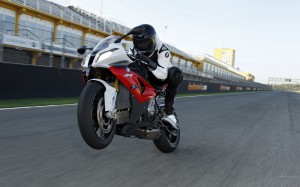 Ounce for ounce, the Germans have never invented anything else so sinister or powerful.  Or as beautiful.  This is Heidi Klum and the Luftwaffe rolled into one.  Look at the shark gill style vents.  That's a warning.  It's also serving a purpose… keeps that Sturmgewehr it uses as an engine cool, by pulling in air and blowing it out and away from the rider.  Then there is the thing with the asymetrical headlights.  That's a one raised eyebrow saying that it isn't going to put up with anyone's shit.
Not from anyone.
2012 BMW S1000RR – American Specifications/Technical Details
US MSRP Price: $15,050 USD