The nice wood double diamond grips were just too nice for the ATI.  They didn't go well with the matte black finish.  After awhile it got to the point that I found them just irritating.    So I got some nice plain old Hogue grip panels in OD green.  The matte finish on the Hogue work very well, keeping the ATI in a nice subdued scheme.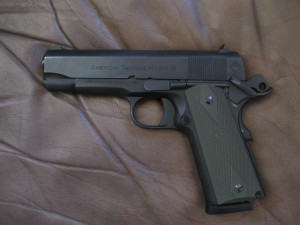 The gun is north of 600 rounds now, with only one fail to feed.  Again, that failure to feed was in the first few rounds right after I got the gun, and it has never happened since.  I did replace the recoil spring after those first few rounds, because the gun did feel under-sprung.  The gun has been perfectly reliable since.  The gun shoots point of aim/point of impact at 30 feet or so… I've had no complaints about accuracy, only compliments from everyone that has shot it.  I've let a few people shoot it and no one has had a negative bit of feedback, and no one has reported any malfs.
The biggest question about the ATI is the quality of the steel.  So far, there has been no unusual wear on any of the internals.  So I am thinking, so far, that the steel is up to snuff.  I have no reason to suspect that its a lesser quality steel alloy.  I don't think it's anything great or special… but it doesn't look bad at all.  The only real wear the gun is showing is on the finish, which looked suspect right from the beginning.  If you look at that photo closely, look at the muzzle end, you can see the wear.   I'll have Joe at Crusader Weaponry give this thing a Duracoat treatment, and that will take care of the finish – no problem.   It's a 450 dollar 1911, so you do have to cut it some slack.    And finish that shows holster wear only makes it looks like you actually use the thing… I think a gun with some holster wear looks better than a gun that looks like it's a Safe Queen.  But that's just me.