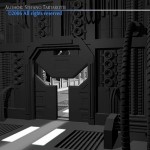 1. Complicated Doors.
Doesn't matter if it's Ancient, Magic, Fantasy, Sci-Fi, Alien, Vampires or whatever – the door to something important or even not important… is a complicated fecking mechanism of some sort that opens from the center with improbably numerous pieces and parts that have to move out of the way to unlock and thus allow the door parts to move away in any number of interesting and complicated ways.    Or barring that, they are just Ginsu Blade Fast and Scary… How come they can't just be freaking doors?  What's wrong with a regular damn door?  I bet if there really were Aliens out there, interior doors in their homes would be simple doors or maybe a bead-curtain. Not some mechanical device that rivals the workings of a Swiss Watch.  Because Aliens wouldn't have a Complicated Door Fetish.  They would probably want efficiency… like a latch on one side and a couple sturdy hinges on the other.  The alternative to the Complicated Door is the massively oversized door out of impossibly heavy material and construction.   If the movie is really trying to hard, you will have a Massively Oversized Overly Complicated Door.
2. Crouching Slides that tear up the floor.
Any Boss-Fight anymore has this.  The Hero gets knocked back, but instead of sprawling like he just got smacked down, he slides away from the adversary in a Hero-Crouch Pose that's solid as a rock, and as he's sliding, he's ripping up the ground.  Concrete, Marble, Tiled Floor – whatever it is – it's getting ripped up in that power-slide.
2.5.  Exaggerated Action Crouching.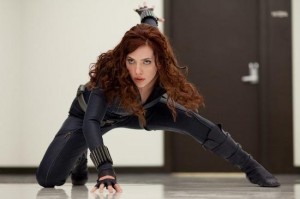 3. Oversized Bladed Weapons.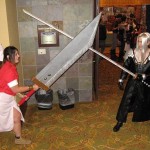 This was once just Anime stuff, but it's starting to pop up in other places – such as Tom Cruise's new Sci-Fi remake of Groundhog Day.  The Hero Chick had a Sword worthy of a Japanese Cartoon.  Let's leave them in Japanese Cartoons.
4.  Massive Collateral Damage to Private or Civic Property.
Superman.  Batman.  Pacific Rim.  Star Trek.  Avengers.  Lately it's not safe to park a car or be in a building or even just in a city where a Super Hero is.  Because he's going to use it like a Wiffleball Bat or get slammed through it like a missile, or he'll just throw it.  Whatever it is you have – screw it.  It's Collateral Damage in the great war against evil.  Geico doesn't have Giant Monster/Hero policies… but maybe they should.  Because The Man Of Steel doesn't give a damn you just dropped ink on a 450 dollar a month Car Note for that new Mercedes.   Hero is going to use it to smack the Bad Guy into your Office Building and then toss your sweet new ride you have a 72 Month Loan on.