The SIG GSR 1911 C3: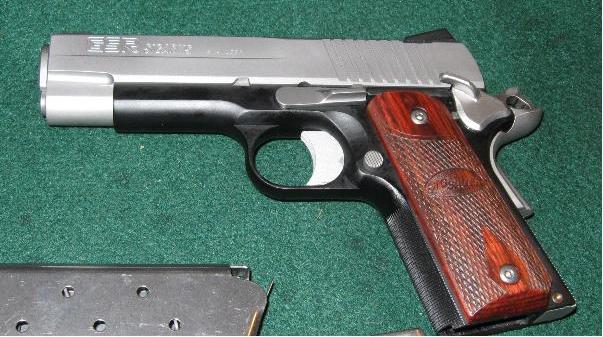 What can I say? I had to have it when I first saw it and I've been working on getting one for a long time… today was the day it came home with me. Sexy little minx, the C3. The C3 is SIG's answer to the CCW question. Colt used to make a pistol called the CCO, a gun that I have always wanted since I first saw it. Then Colt dropped it because Colt is run by a pack of useless idiots with balls slightly smaller than your average sun-dried raisins. Well, SIG, being smarter than the average bear, is making their own flavor of the CCO concept. Commander length barrel on top of an Officers sized frame. This is, and I am not saying this lightly – the PERFECT concealed carry combination.
You know how I've said that Kimber makes "one of the best" production 1911's out there? Yeah, well SIG is the other part of that equation and they do make The Best production 1911 out there. I'd like to see some top gunsmiths make some top end customs based on the SIG GSR's. In the photos, take a close look at the frame to slide fit. No, scratch that… Go to a stocking SIG dealer and look for yourself with your own eyes. To get better than that, you are going to have to buy a full house custom built gun for at least double the money… and even then I really don't think you can get better than that. Not when you are talking Stainless and Aluminum… now if you were doing a solid steel gun with the same steel on the frame and the slide – maybe it might look tighter, but you can't actually make it any tighter. There is ZERO play in this C3's frame to slide fit. There is no play in the barrel.
Kimber still makes some great handguns, don't get me wrong. I'm still a huge fan of Kimber's Tactical series. But SIG's GSR's? They've taken it up a notch. The reason I got the C3 was that I wanted a good compact 1911, but I wasn't quite sold on the Ultras… It's the Bushingless Bull Barrel that turned me off. The C3 has a Bushing. It has a GI type follower… no full length guide rods… no paper clips required to take it down… no gimicks or bullshit… just a solid 1911 the way John Moses Browning would have approved of. Say hello to my new daily carry gun. To get better than this – I'd have to buy a Wilson Combat or a Nighthawk Custom.
Shooting the C3, I couldn't be happier. It's A+ on the Accuracy Score. Even out to 50 yards, it was precise. Reliability is exactly what you come to expect with SIG, meaning it was flawless. Yeah, you can say I'm a hard core SIG fanboy now. So what do I think is better, the SIG or the Kimber? Read this post again. The SIG's don't use plastic mainspring houses, let's just leave it at that.