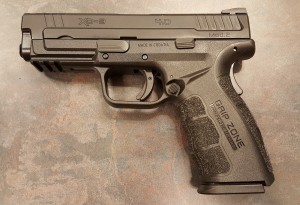 The XD MOD.2 Service.  A new XD I could actually own.
This is the best rework of the XD series Springfield has.  I like this better than the XDM.  The new MOD.2 is shaped right.  It fills the hand without being too large and is just grippy enough to be be grippy without being abrasive.  The regular XD's and XDM's feel slick in my hands… .and for that reason I just don't take to them.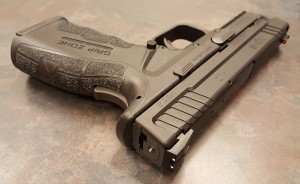 Had this been the design back before I got my Glock 23 – I think I could have been very likely to have selected one of these.  Now look at the Slide and Frame contours… You know what?  The XD isn't ugly anymore.  It's grown into quite the handsome figure.  I like the slide serrations.  They did a great job.
There's just one problem.

"GRIP ZONE"?  Seriously?  Where's the "SLIDE ZONE" markings?  Captain Obvious needs to stay out of the Design Room at Springfield and maybe take a holiday to eastern Syria.  GRIP ZONE… Who approved that?  Who did that?  Who is responsible for GRIP ZONE?  If you know who that guy is… Mark his face with a Sharpie "SLAP ZONE".  Please.
Other than that… Home Run, Springfield.  Home Run!  I'll be waiting for and 3.8 Compact Mod.2 in the XDM series…  But this is tempting. as it is.  Very well done, Springfield… Bravo!