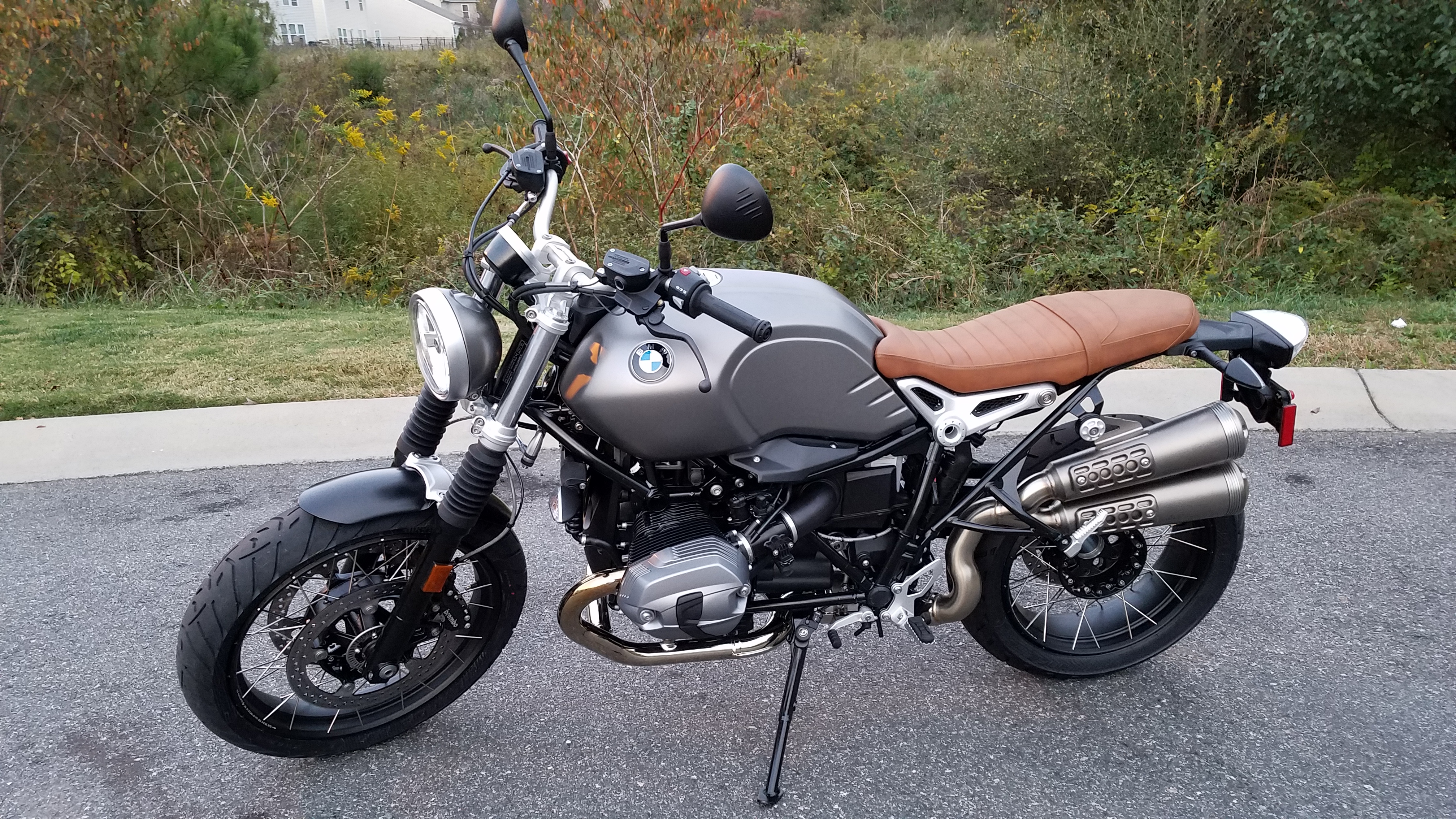 This bike was a Classic the moment it was uncrated.  Everything about it is just so good looking.  It's just beautiful.  But the beauty isn't just skin deep… not at all.
What makes it so good is the engines… The heart and soul of any bike.  The Scrambler uses BMW's R1200 boxer engine… the well known Oil-Air Cooled version.   This engine really is world class.  BMW's put it in Adventure Bikes, Touring Bikes, Sport Bikes, Roadsters… they've pretty much put this engine into every kind of bike they've made…. and now they've put it into the Scrambler.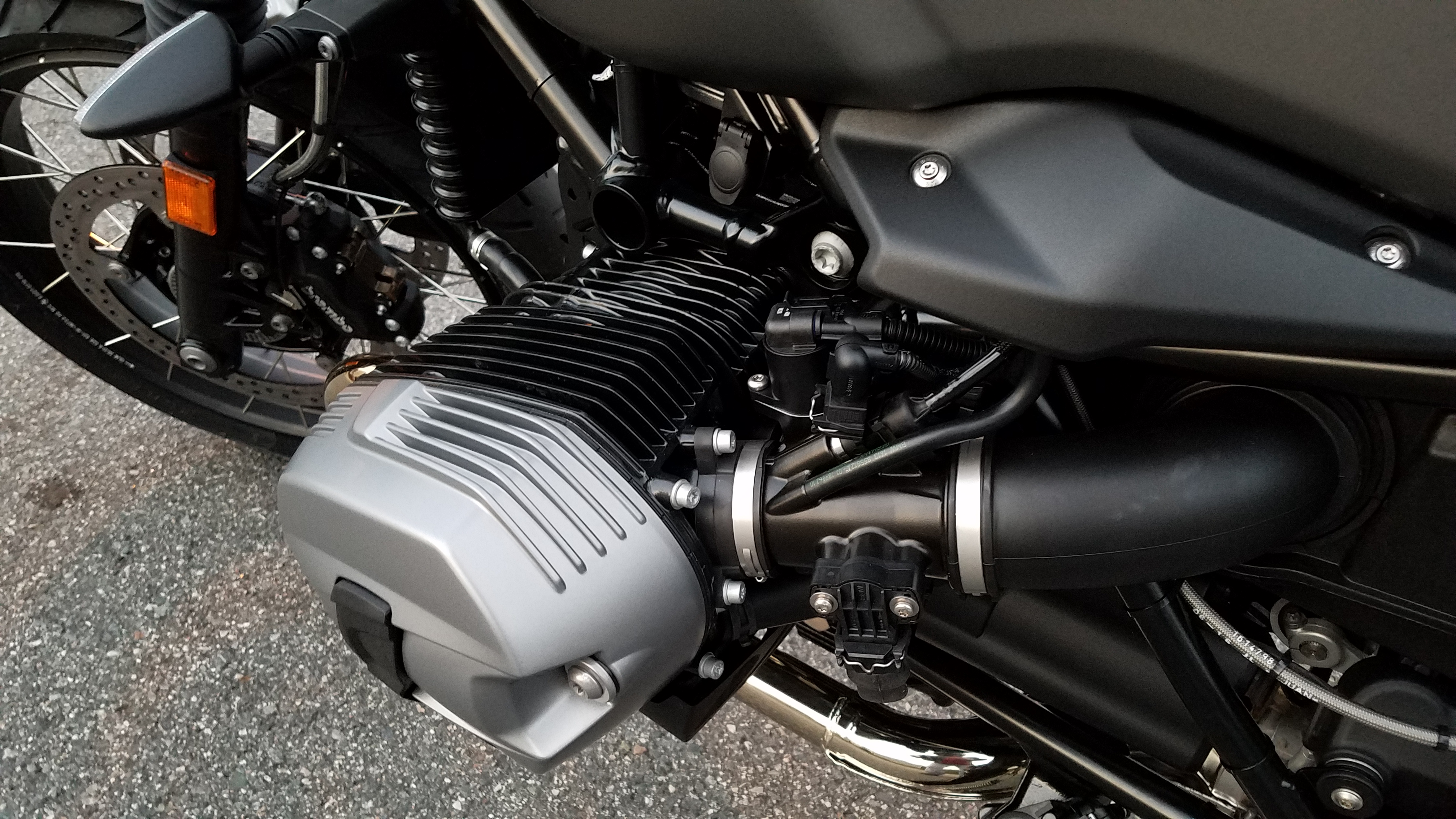 The Scrambler isn't just a more rugged version of the R Nine T.  It's quite different.  We've got a different suspension, different forks up front, different tires, different brakes, and a different rack angle on those front forks.  This gives the Scrambler a completely different feel than the regular R Nine T.  The R Nine T feels sharper and quicker handling, where the Scrambler feels more composed and stable, even on dirt roads.  But dirt roads is not this bike's natural habitat.  This bike is an Urban/Suburban type machine that wont throw a fit if you ride over some dirt.
Did I mention how cool and good looking this bike is?  It radiates cool factor like few bikes do… It attracts a lot of attention too.  From all the boys and girls.  I was sitting at a red light in Pineville, NC on this bike, and a car full of young ladies pulled up next to me.  After a moment one of the girls starting yelling something at me.  I don't know what all she said, but it ended with "put a baby in me!"   I'm not really sure all what that means… but the gist I got was that she liked the bike.
But really… Who cares about what other people think about your bike?  A motorcycle is a very personal thing… it's a very emotional thing.  Because there other other practical options for personal transportation out there…. and motorcycles are not about practical and they are not about Personal Transportation.
No… a bike is about transporting your soul.  It's about how it makes you feel inside when you look at it, and when you ride it.    And this is where the BMW Scrambler excels.  It's a small bike packed with a big 1200 Boxer.  It rumbles with authority and you can feel the torque with just a slight rev of the engine.  The machine feels like a caged lion at a stop light.  It wants to rev and it wants to leap out and charge.  Yet when the light turns, the Scrambler steps out smartly, but without any unwanted surges.  It remains well behaved and centered.   Even through the curves the Scrambler just goes where it's pointed, with no unnecessary drama.   It doesn't tip in as quick as the standard R Nine T, it's not lazy… it's not twitchy.  It's just a good, solid motorcycle.   One of the best on the market.   One that can make you smile riding or standing still.  Few bikes make me grin like the Scrambler does.   This is a bike you want to own after just a few moments in the saddle with it.  She's gorgeous, she's smart, she's got the whole package.