In a moment of weakness… I picked up a Weaver Rail that will fit nicely on my Rossi M-92.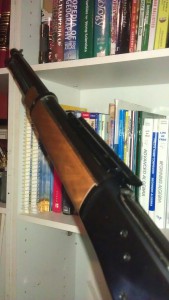 What evilness have I brought into my home?  I am ashamed.  Okay… I'll return it to normal sooner than I thought.   I still might experiment with an optic on it… just so I can get a better idea on the rifle's accuracy… and then this rail is coming off and another sighting system is going on.  Because the factory sights on these guns are a let down. They are preventing these rifles from hitting their potential.
Now, before you hate me for what I did… I did nothing as bad as what Mossberg has done.  Mossberg took the Lever Action, and defecated all over it.  This rifle just might be put on display at the SHOT Show.  If it is – someone please Falcon Punch the guy at Mossberg that did this.

That is the worst thing I've ever seen.  And I've seen some seriously nasty things.
UPDATE:  I took the rail off and put the rear sight back on.  It's as if it never happened.  I'll look at other sight options.