When an old battered Glock got traded in, I had to get it.  It was in horrible condition and the trigger wouldn't reset.  I replaced all the trigger parts and cleaned it out and Slipstreamed it.  It functions flawlessly now.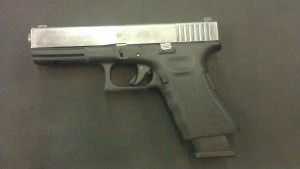 I cut the Grip Frame down from normal Glock 22 length to Glock 23 length so I can use both mags.  You can see the 22 Mags stick out a bit, but it's functionally flawless.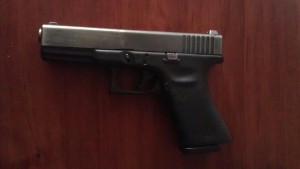 The G23 magazine locks in solid.  Reason for doing this is to make the Glock 22 more concealable. The result is like a Colt CCO or SIG C3.  Longer barrel and slide on a more compact frame.  Greater Concealment without sacrificing shootability, accuracy, or ballistics.  You can see in the second picture the grip is now devoid of texture.  Stippling will commence shortly.  I find it's best to sand the grips to make a nice blank canvas to work on.  One gets better results that way.  It also narrows the grip a bit, making it feel nice and danty.
You can see the Prior Owner tried to make the slide look Stainless.  This didn't work so well.  The slide will have to be media blasted and Cerakote finished.  I'm thinking a Dark Gray color.