Been cleaning a lot of old guns at work.  Part of that process as involved using the Hornady Magnum Ultra Sonic Cleaner.  They sell this primarily for cleaning Brass for Reloading… but Hornady has a Cleaning Solution formulated for Gun Parts.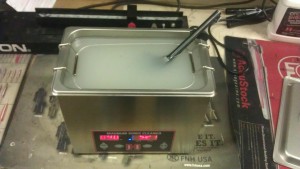 The stuff is AMAZING.  I love it.  Especially useful when cleaning something very delicate and you don't want to scrub it with a brush… something really valuable.  The Ultra Sonic cleaner did the trick nicely.  It takes some time to warm up completely from Room Temp, but once warmed up, set it for 15 Minutes, it will save you a lot of work.
As you can see, it's not big enough to dunk a gun whole… I wish Hornady made one that was actually "Magnum" sized for guns specifically… but dunk a pistol on one side, then flip it over and hit the other side.   But still… a nice BIG tank would be awesome.