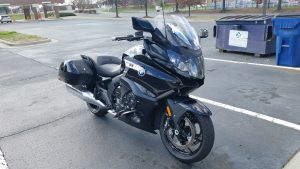 Normally, I don't dig big bikes.  And this one is absolutely a big bike.  BMW's K1600 series of bikes, the GT and the GTL, are dominating Alpha Dogs in the world of Touring Motorcycles.  They are power… very powerful… and they are very comfortable.  And believe it or not, they actually have a lot of performance.  But Touring bikes are not my thing.  And not the thing for a lot of other people too… Enter the world of the Bagger.  A Bagger is a chopped down touring bike.  Typically, when you say Bagger, you're thinking something from HD.
A few years ago, Honda shocked a lot of people when they took the Gold Wing and made a Bagger out of it.  The slope rear end treatment gives the bike a low mean look.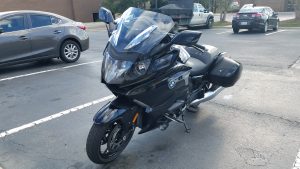 When BMW decided to that a wack, they not only nailed it… but they hit it out of the park.  Enter the K1600B.  Or just the "B".
Unlike the GT and GTL, the B doesn't even really FEEL like a big bike.   It feels lower, leaner, and a whole lot meaner.   It feels quicker, and it even feels more nimble.  It's quite remarkable how the B feels like a completely different beast.   All the K1600 bikes share the same engine… a 1600cc In-line 6.  Smooth doesn't even begin to describe this engine.  A Jag V-12 is Smooth.  A Turbofan is Smooth.  And then there's BMW K1600 Smooth.   It produces an amazing 160 Clydesdales with 124 Foot Pounds of Torque… But it's not an over-powered Hot Rod meant just for Drag Strips.  That's not BMW's way.


The engine is a highly advanced, ride by wire, computer controlled system.  You could program this thing to hunt Sarah Connor.   It offers different ride modes for engine management, stability and traction control.   You tell the bike what mood you're in, and that's how the bike will behave.  Or Misbehave… if that's what you want to do.


Unlike Honda's Bag Wing, BMW didn't strip out any of the Rider Assist Technology or accessories… You can get Navigation, Audio, Cruise, Heated Grips and Buns, everything that can be pumped into the bike.  Including the ABS Pro and Quick Shift Assist Pro.  So, let me tell you what those are, and why you want it, even on the B.
ABS Pro gives you an intelligent braking system that takes everything you are doing into account… the lean angle, the ride mode settings, your throttle position… and it applies the brakes accordingly to keep you upright, while stopping you in a very controlled and safe manner.  It also links the brake system Front to Rear… So you use the Front Brake Lever, and the bike is braking at both the front and rear… at about a 2/3-1/3 ratio.   Which is ideal.  If you stomp just the rear brake peddle, all you get is rear brake. Crush the Front, and you get both.  This system rocks.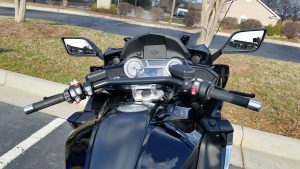 The Quick Shifter?  It lets you shift gears above Second Gear with just a tap of the toe on the shifter… no clutch.  Now, you can already do that on most any bike by just blipping throttle down… But this system does it while shifting Up and Down, with no change in throttle input.  And it does it faster than you can, and it doesn't miss a shift either.  The magic is when you are on a twisty road and your tapping from down going into a curve, and then back up as you accelerate out of the curve.  This keeps you IN THE RIDE and it spoils you to the point that bikes without this start to feel cumbersome.  You're going to love that feature real quick.
Now, going into second and first, of course, you still need to clutch it… But when you are hustling… it's amazing.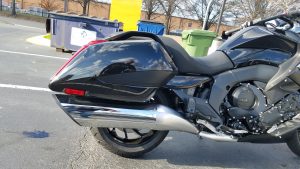 And you can really hustle on the B.  It has more lean angle than any Bagger has any right to… Which means you can Carve a Corner like Jack the Ripper… Brutally, with a Surgeon's Precision.
The B is amazing.