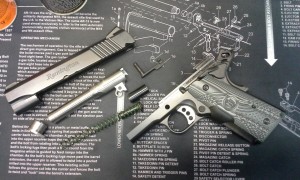 I recently had the change to really get into a Remington R1 pistol, shoot it (a lot) and examine the guts.
Shockingly well made.  The internal machining was clean and precise.  The parts fit together without any slop, or tight spots.  The finish as smooth and even and consistent… and attractive, if I might add.  Overall, I liked it a lot.  For the money, the R1's seem to be a fantastic Bang for the Buck option.  You are getting a lot of 1911 Goodness for a very reasonable amount of money…. a couple hundred bucks over a Glock.  (This one was sporting optional Crimson Trace grips, which add about 350 bucks for the Master Series)
Accuracy was very good with most rounds fired.  Excellent with some.  The worst was with Aguila FMJ's, but the R1 was redeemed with Federal and Hornady ammo.  Remington's own UMC ammo was not tested.
I didn't record FPS #'s as I did not have a Chrono.  I still need to buy another one.
No Malfs were encountered, and I do not anticipate many would happen, as this is a good 1911 built right.
I'm very much looking forward to the new 1911's made in the new facility in Alabama where the Remington R1 are absorbing Para USA like a Big Green Borg Cube…  We'll see if the R1's are as good as they used to be.