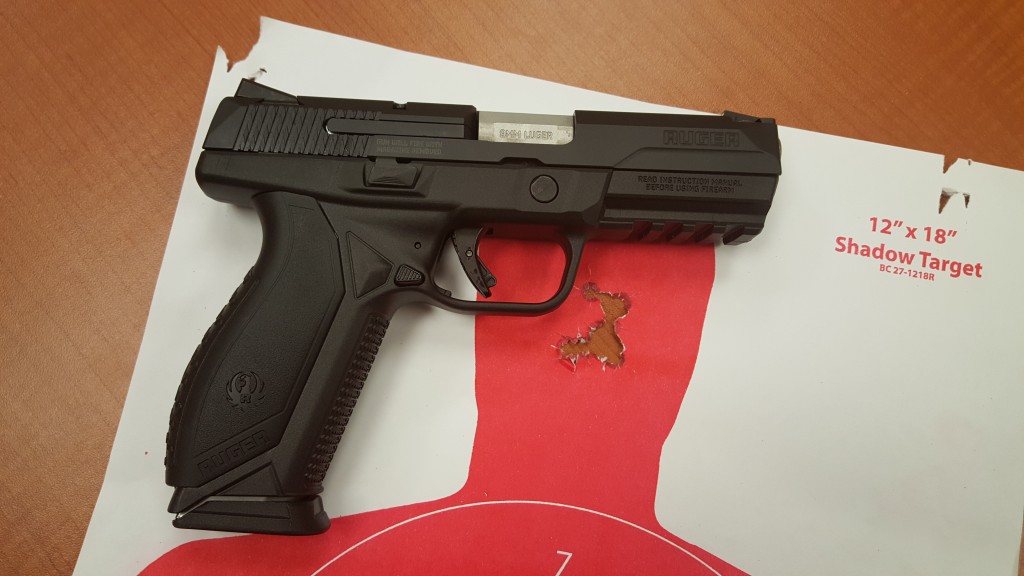 There's a lot to be said about the new Ruger American Pistol.   But let me start out by saying that it's a great shooter.  It's a great looking gun too.  Out of the box, it's been 100% reliable.  First shots with it – were exactly where I wanted the bullets to go.  The trigger is great, and easily one of the best in the business.  It's up there with Walther PPQ and HK VP9.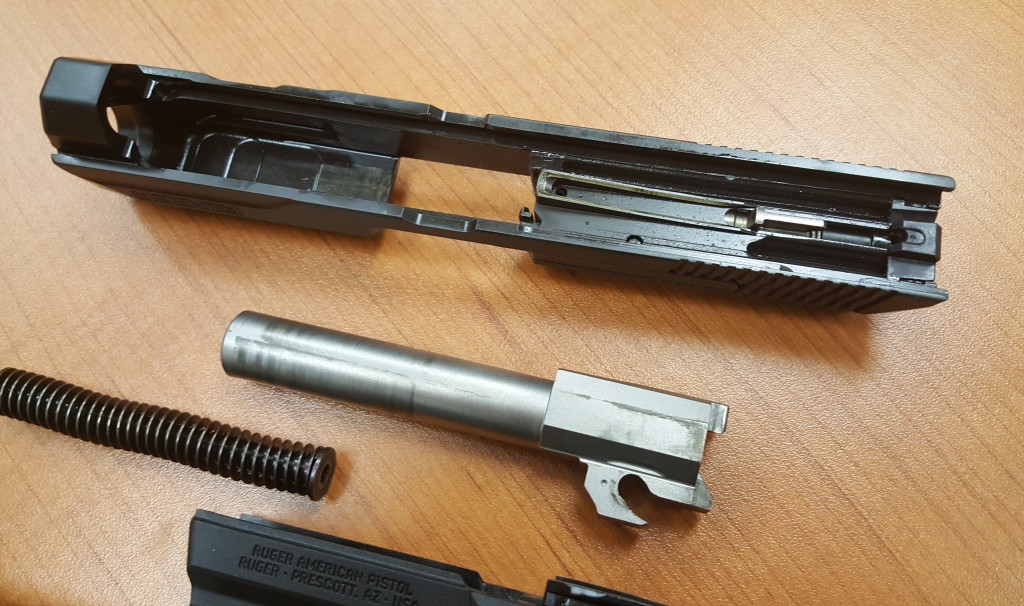 The internal machining of the new Ruger shows that's up there with SIG and FNH in terms of quality.  That says a lot.    Every part is done exceptionally well.
The feel of just the polymer frame is excellent.  It doesn't feel chinsy and hollow like say, a SIG 320 does.  It feels like it's quality.  Because it really is.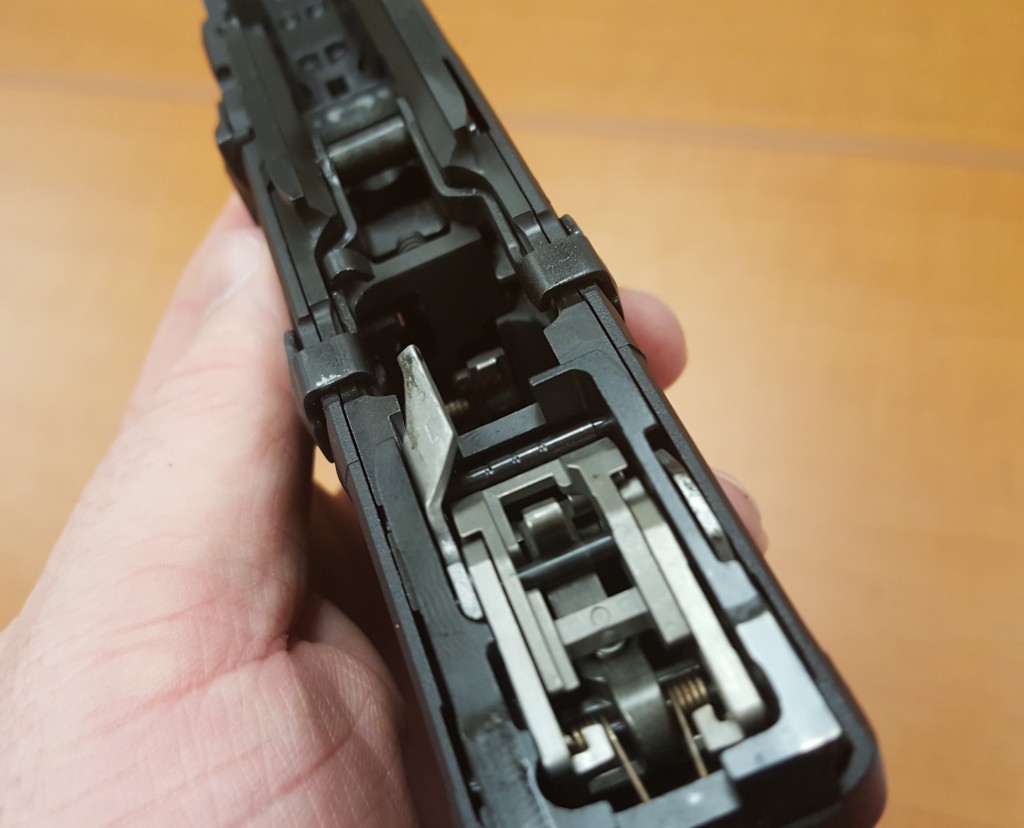 The American Pistol departs from the normal "Like a Glock" pattern. This is a whole new mechanical system here, and the proof is in the feel of the trigger… Which is excellent.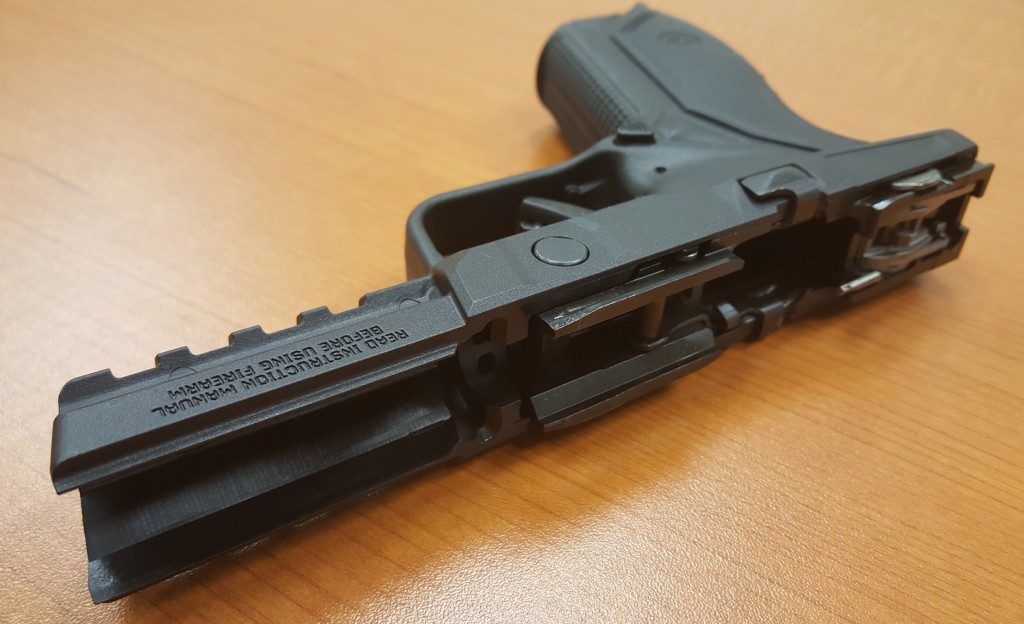 I like how they beveled the leading edges of the frame rails.  Which makes assembly easier than most autos.   The rails are also much longer than normal Poly-Strikers, and they are polished.  Thus giving the Ruger American Pistol a very smooth action.
Another nice thing about the Ruger American Pistol is that the steel sub-frame is machined out of one solid piece of steel.   Giving the whole pistol a much more solid feel than other gun of this type.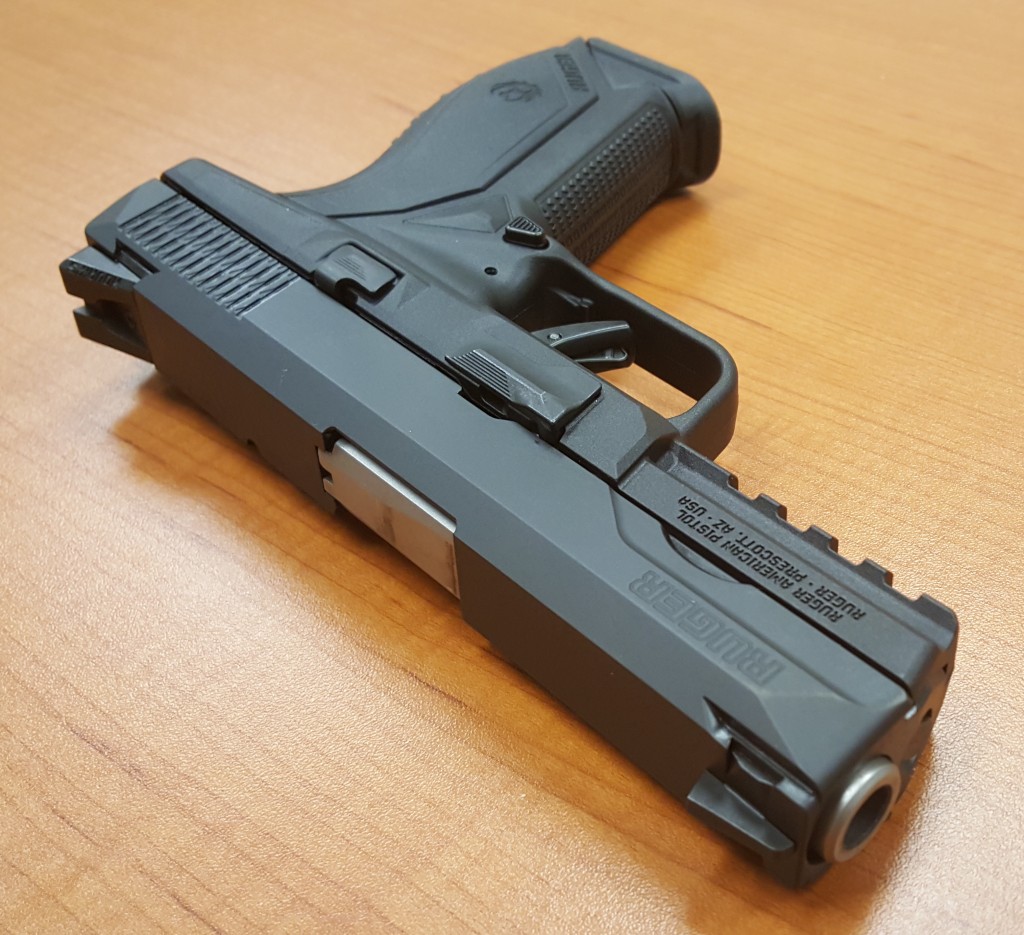 And dare I say it?  It's one hell of a good looking pistol too.    The lines, the proportions… it looks "right" and it feels just as good too.  
The sights are standard Novaks, so finding and installing aftermarket sights should not be a problem.  It you like Novak 3 Dot sights – you are in luck.  If you like something different – the options are vast.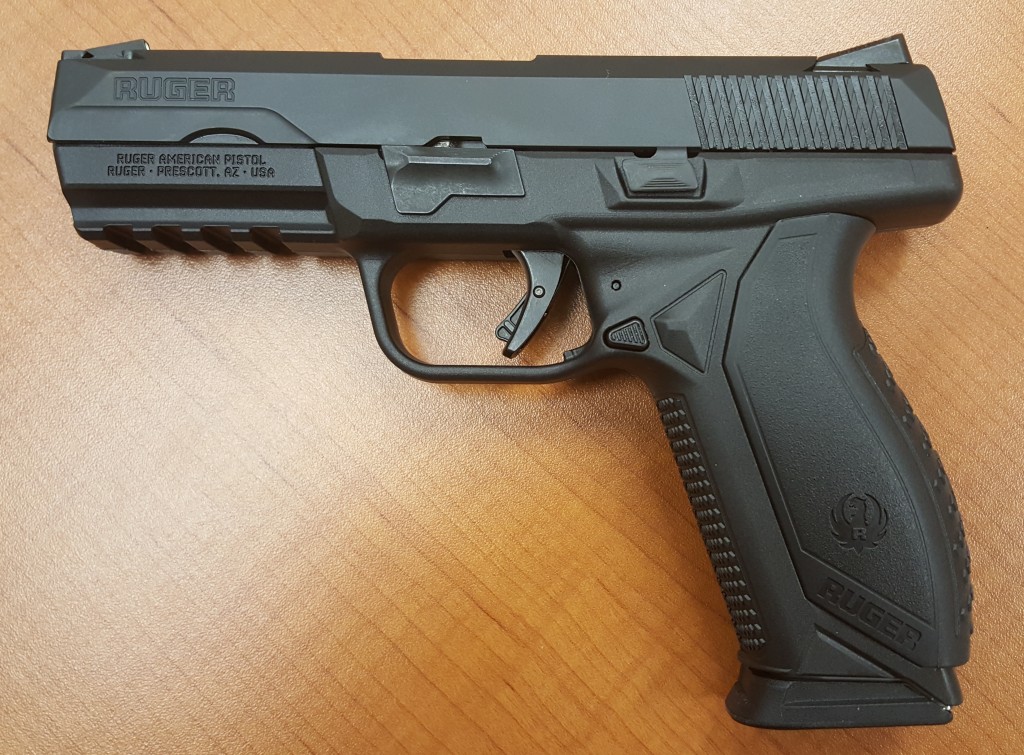 Take down and such is just like a S&W M&P or a SIG P320… Lock it back, push the lever down, pull the slide off the front.
Ruger has said that these pistols will not replace the SR series of pistols.  But let's be real – it will.  Because to buy an SR pistol, you will have to look at this gun and say "No, I don't want that".  Which is a statement you will not hear very often or ever.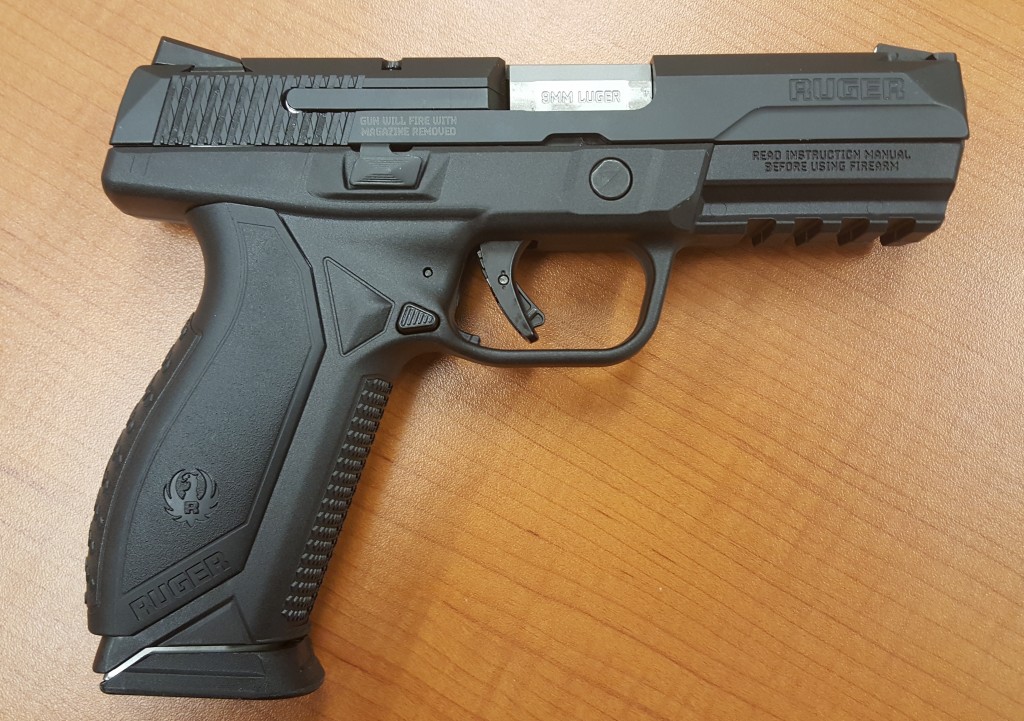 Interchangeable backstraps are included with the gun.  It comes with the Medium size installed, and you can opt for the Small or Large as you wish.  The Medium size though, feels small as it is.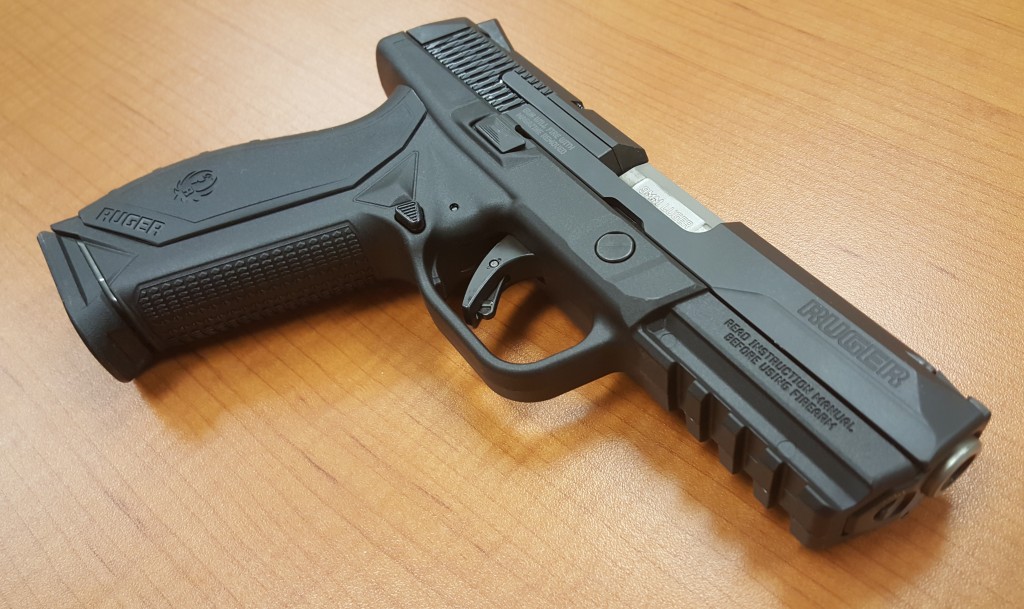 Ambi Slide lock lever and Mag Release.  Works perfectly from either side.  I love the angles on the gun.  It looks fantastic.  This is the best looking new gun to come out since the HK VP9 and M&P…. Both of those are sexy looking pistols too.  But I really like the looks of this new Ruger.
Ruger has said that they have no interest in a Military Contract. And have in the past refused to even participate. Ruger looks to have changed their minds on that.  In fact, they have mentioned the military requirements in the development of this pistol.    And having shot this gun and the other possible contenders – Ruger actually has a dang good shot at a Military Contract for this gun.  As well as contracts for LE Agencies across the globe.
Well done, Ruger.  Well done indeed.  I'll be buying one soon enough.  Speaking of buying them.  They should be available for ordering as of Jan 1st from your local dealers.  Initial supply is very limited, so patience will be required for some time.  MSRP is 575, which means this should hit the streets at about 500.  It's easily on par with everything else on the market at that price – and better than most.
Ruger, you've come a long way, Baby.  You have arrived.
Now make a Compact version for me.