The ride out to SLC was fast and the Honda Magna did very well.  Save for one small detail.  I had thought that the seat was just fine.   Unfortunately on an extended ride, the seat becomes a torture worse than water-boarding.   The 100 mile range per tank is more than enough.  Because at about 60 miles, you have to get off that seat and get some blood back into the buttocks.
At Crusader HQ, I dropped off my ATI Commander for some slicking up and for a new finish… Cerakote.  In Battleship Grey.    We got the Grey Cerakote in for our customer, who I still can't reveal.  But the color is awesome.  After talking with Joe and twisting his arm, he agreed to come with, on a little adventure.    I had  a mission.
Crown Burger.  They have a lot of things on the menu but the signature Crown Burger is extraordinary.  The pastrami adds a dimension to the burger that just can't be had with mere beef.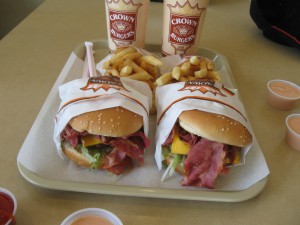 After we ate we headed up to Hill AFB.   Our good friend, Nightcrawler met us at the gate where we set about for a tour of the EOD shop.
They have an old T-62 Tank outside the EOD shop.   Unfortunately, the story has to how they got this tank is unknown.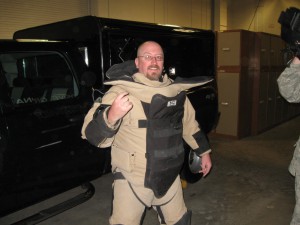 I have many photos that I am not at liberty to publish.  But I can post some.  The Bombsuit is basically a full suit of Level III armor, legs, crotch, torso.. 75 pounds of pure encumbrance.  It can protect you from small bangs and fragments.  Unfortunately EOD has to deal with things much bigger.   You've seen this suit in TV and Movies, most notable is the film "Hurt Locker".  I think the title is just about the suit.  It is awkward, heavy, and while your in it, all you can think about is wearing this walking bunker.  It makes doing everything difficult.   Doing fine little technical work – like defusing a bomb – while wearing one… I tell you, I couldn't do it.  But this is what EOD does.  Luckily, they have help.
I can't tell you how many robots I saw.   Of course Robot is not really a correct term… Remotely Operated Vehicle.   It takes a very skilled operator to run one of these and do anything product with it.   I've played with RC cars… they all crashed.  The Post Title, telling me to stop jumping on the nuke… yeah.  Quote of the day.  That happened.  Yes, I am such a child.
The Bohemien Buffalo Burger
After Hill AFB, we ran down to the Bohemian Brewery for Buffalo Burgers.  Order it Medium-Rare.  Flavor, you'll have it.  The Buffalo makes even the mighty Crown Burger a shadow of the majesty that it claims to be.   Makes you want to lick your screen, doesn't it?   Around the table, we had Steve and his lovely bride and their small child, who was adorable.   Khorne was there.  Gundoc.  And SuperNaut.  We all dined on Buffalo, and it was easy to see why the Native Americans held them in such high regard.  But as good as the food was, the company was better.  It was dinner with The Family, and I enjoyed it more than anything else that day.