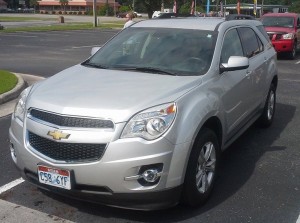 May 2013 I took delivery of a brand new Chevy Equinox.  Front wheel drive, V-6, 2LT trim level, tow package installed.   At this point it has passed 32,000 miles.
Let me give you the run down… About every 2800 miles its been getting oil changes and tire rotations done by Dealerships.  And by that I mean Marine Chevy in Jacksonville.  At 8,000 miles it needed a new battery which was replaced under warranty.  That's been the only issue.  And really not all that big a deal.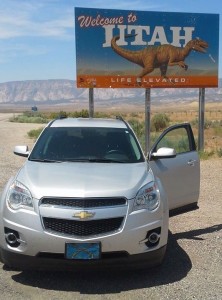 The little SUV has performed admirably.  Turning in great fuel economy… Far better than I would have expected. Better even than the 4 Cylinder versions are reporting.  Thanks to GM's fantastic engine. Direct injection, a smarter transmission, gobs of power at the low end… The engine never really has to work hard.  Unless you ask it to.  And when you do, it delivers.  It has a lot of torque steer that you have to physically wrestle with, so hold on with both hands before you hammer it. And when you do, the car springs to life with a quickness and agility that's unexpected. This makes my little SUV feel more like a Hot Hatch.   A very heavy, but powerful, big hot hatch.
As soon as you let off the gas again, the EQ is back to it's normal sedate nature.  It cruises well, quietly and composed even at high interstate velocity.  Feeling solid and connected, it's easy to gobble up miles with comfortable adjustable and heated seats.  Pretty luxurious stuff to this guy.
The touch screen is large and more responsive than most others I've played with.  Easy to navigate.  Syncing phones is easy as well… And the hands free calling works very well.  As does running music from the phone.  The only thing it doesn't do is Navigation.  Which is crazy… Chevy not putting navigation in a car at this price level is just retarded. There's also no update feature with this system.  You can update it with a USB, but there isn't any updates for it.
Climate control is excellent with a very cold AC and a heater that you can bake a cake with.  It comes up to temp fast and cools down fast… Really once you set it to the temp you want, you can just ignore it… The system will handle the rest.
Remote Starter.  Remote hatch/rear door opening and close. Backup Camera. Alarm.  It doesn't lack features… Save for Navigation.
The EQ is a handsome car too. I think they look good… But it could get a little more bravado in the wheels and tires department, maybe a little lift.
I think it just may be the best vehicle GM makes.  Its also the only vehicle GM hasn't had a recall on that I'm aware of.  GM just did everything right on it… Save for the lack of Navigation.  The only problem really is the lack of personality.  Its a very Vanilla car. Its one that is easily forgotten.  It's like the proverbial Nice Guy.  What it needs… Is a dark side.  A tattoo, a Honey Badger snear, and a pair of boots.  But even then it would probably still be too clean cut and polite about everything.