Continuing my Armchair Quarterbacking of Chevy; it's time to look at the SUV's and Trucks.
This is my ride.  A 2013 Equinox 2LT.  I own this.  I got it brand new last May in 2013.  I added a trailer hitch to it and other than that, it's bone stock.  This is a great car.  Well, it's really a crossover SUV according to the Auto Industry, an SUV/Truck according to Chevy, and a Station Wagon according to my friends.   It's got a direct injected, 3.6 liter, multi-fuel, V-6 engine that cranks out over 300 horses.  It can really haul ass. I love the big bore looking dual exhausts.   I've got 15,000 miles on it now, and the only problem I've had was a bad battery that was replaced under warranty at 8,000 miles.
Here's the problem though.  I keep calling it a car because it doesn't feel like an SUV at all.  SUV/Truck?  There is nothing truck-like about it and there never well be.  It's a Station Wagon.  Even the All Wheel Drive versions… are just all wheel drive station wagons.  So let's improve upon what it really is.
What I don't like about the EQ is the lack of testosterone in the Shifter.  When in Manual Mode, to up and down shift you have a tiny toggle think on the shifter.  Come on.  Let me play with that stick.  I want to move the stick to shift.  Not toggle the button.  And also, when in manual mode, make it stay in the gear until I manually shift it.  And if I want to down shift – let me down shift it.  The EQ's Manual mode has no control over anything – it only takes your command as a suggestion that it will consider later, down the road.  Manual Mode should also involve a sport setting.   An SS version would be nice too, because… Reasons.  Really there should be an SS version of everything.  Because having the option of More Power should always be available.

Keeping up with Chevy's evident idea of taking one thing and making it a bit bigger… The Chevy Traverse is to the Equinox what the Sonic is the Spark.  Basically the same damn thing a bit bigger.  Again, this is supposed to be an SUV.  What it really is, is a Mini-Van.  Anyone telling you differently is selling something.  The Traverse really is a nice vehicle.  They sell very well, as I see millions of them on the road, just like the EQ's.  But they should be called the Transverse because it's just a cross-dressing Mini-Van trying to look a little more butch.  It even has Eyeliner.

Not that there is anything wrong with that…
What Chevy really needs to do though, is get off it's ass and bring back the Trailblazer.  Here's a rendering of what that could look like: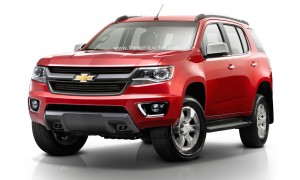 Now THAT is a freaking SUV.  And Chevy, when you do this.  Don't make it like how Dodge did the Durango and Ford did the Explorer… That's what the Traverse is… a huge bloated Station Wagon.  No.  Base it on the Colorado.  Truck First.  What you need to do is make it something that can compete with Toyota 4Runner.  Something that has some actual Off Road capability instead of the rival's Dirt Road capability.  Make the Trailblazer live up to it's name.  Give it the comfort of a Jeep Grand Cherokee, but the clearance and ruggedness of 4Runner.  That's the target.  People would go BONKERS for it.  I'd trade my EQ in on it.  Engine options would of course have to start out with the 3.6 Liter V-6, but then give it that 5.3 Liter V-8 option.  Because – BALLS.  That's something missing in the Off-Road market.

I'm loving the new Colorado… or what I'm seeing of it.  Dropping it was a mistake.   I really liked the last one.  I did.  I had a friend who got one and I was jealous.   A great little truck.  But it was rather gutless.  You had rather weak engine options in it.
Chevy really needs to do something to answer to the Ford Raptor.  Toyota brought out some cosmetic upgrades to make their truck look like a Raptor type Rig… but it's only weak sauce.  So here is what you do, Chevy… Go to YouTube and watch every video on something called the King of Hammers.  Eat Bacon.  Listen to Heavy Metal. Go shooting.  Grow a beard.  And then eat some more Bacon… and then let your engineers do a version of the Colorado called the Hammer.  Give it some serious performance chops, and make it a freaking Off Road Super Hero.  And put one in every Dealership.  Get the Hammer Pro Team out and run it to the North Pole like what Top Gear did with the Toyota.  Run it around the Nurburgring like what Ford did with the Raptor.  Promote the hell out of it and show the world that Chevy has it.
One last thing, Chevy.  Remake the Avalanche on the Colorado platform instead of the Silverado.