ATI is bringing in some really well made 1911's.  I've been eyeballing this Commander for almost 5 months now.  Had to do it… I… can't… help… myself.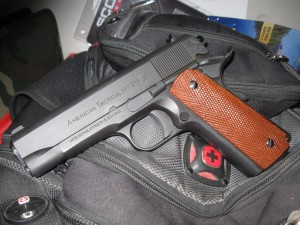 I'm an addict… I know.  I have a problem.  I admit it.  I LOVE guns.

Crusader Weaponry list of soon to be done upgrades:  Full ST-1 Treatment.  Trigger Job, Action Job, and an OD Green Duracoat on the grip frame.  Then those nasty wood grips are getting replaced with something else… I don't care what.