Crusader Weaponry is almost done with our new Broadsword Carbine Demo Gun.  This gun is for Gun Writer Reviews.  From this point previous, every photo you've seen of a Broadsword has been a Customer's Gun.  We've just not had the time and the parts to do a gun for just Demo Purposes.
This gun is going to be going out to the Writers sporting a new optic.  I've talked to a few optic companies and they were willing to send us some normal run of the mill optics… which is precisely what we didn't want.  We wanted something unique.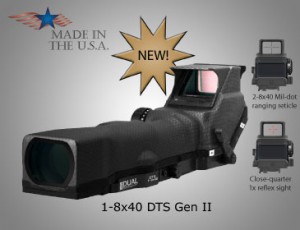 Kruger Optics stepped up and is sending us a Prototype of their DTS Gen II optic.  Check it out here.  The concept is brilliant and I think it has huge potential.  Now, this unit is a Prototype and not a Production unit, but it should work just fine.  We're looking forward to checking this thing out.  Just looking at this thing – I want to love it.