I've not always been a fan of Beretta.  I'll admit that.  When I was first told to turn in my 1911 to be issued an M9, I was not a happy camper, and that caused a burning hatred of the 92 series pistol that lasted for a good many years.  Two decades later and I find myself to be a rabid 92 series fanatic.  It took a long time to come around… but the gun garnered my favor the hard way.  It earned it.  Working at the gun counter for almost a 9 years, I had sold a great many Beretta products.  And I do not remember a single one that ever came back with an issue.  Say what you will about Beretta, I know they have their share of detractors out there… But I love Beretta.  But I also know they are far from perfect.  Let's hit the high notes:
The 92FS: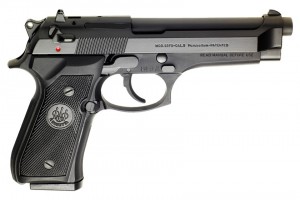 I hate to admit it, but this gun is a dinosaur.  I love mine, and I think these are the best looking automatics ever built… But the design is dated and need revision.  Oh, wait… You did revise it.  And you called it the 92A1: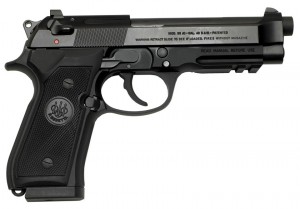 You added a rail.. which is a good… but better yet you gave it a dovetailed front sight post which was desperately needed, and you improved the internals… All of this is good, fine and well… Making this gun the best 92 you can buy.  But then you changed the trigger guard to differentiate it from the M9A1.  What I don't understand though is why do you have these two very different pistols?  Because a holster for an M9A1 wont work with a 92A1, not even close.  I do not see the roles that these two different pistols fill.   This pistol just leaves me scratching my head.  So here's what you need to do.   Kill the 92A1.
Wait, what?  I just said it improved everything an was the best 92 you can buy!   Yes, I did.  But it still needs to die.   Namely because it doesn't stand out in the 92 series line.  Same with the 96A1.   I would build the 96A1 within the same frame as the M9A1, same trigger guard.  Giving the 96A1 the Civilian frame with the rounded trigger guards makes no sense.  It's a tactical gun and needs to be better compatible with the lights.  I think this will fill that 96 nitch much better.    Now, back to the 92A1… Yes, kill it.   And fill the hole in the line up with with a reintroduction of the 90-TWO, renaming it simply as the 2092: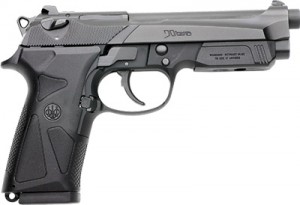 This gun looks amazing, feels amazing, and shoots as good as it looks.  The reshaped safety levers are an improvement.  This gun moves the Beretta family forward.    It only failed because someone gave it a stupid name and your Marketing effort was completely lacking.
This was the stupidest name ever in the firearms industry.  It was a failure from the start.  But the pistol was awesome.  It needs  second chance.  So rename the bloody thing and bring it back.  Also, make a 2092 INOX.  And just for fun, maybe INOX slides on the blackened frames and barrels… and vice versa… because two tone guns are sexy.  There should also be a COMPACT version of the 2092 as well.
Here's another gun that needs to make a comeback: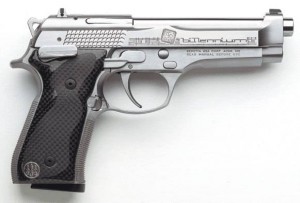 The Billennium.  But instead of it being blinged out… Just make it Black and Inox.  Here's why.  It answers the #1 Complaint that people hate on the 92 for – the Slide Mounted Safety.  The Billennium's Frame Mounted Safety – Especially if you matched that up with the old Vertec Frame – would be a WINNER.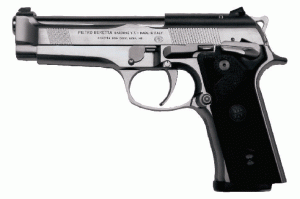 You guys actually had it… and like the 90-Two… you failed to market it correctly.  In fact, I didn't even know this thing existed.  All steel though – so it was a heavy pig.  Nice idea, bad execution.  Make THAT but with an alloy frame and your current rear sight… Beretta… I'm telling ya… WIN.    How come this hasn't been done already?
The NEOS.  I like the pistol.  But it's skinny grip and extreme angle is ridiculous.  Have you looked at a Ruger MKIII or Browning Buckmark?  Well look again.   Because I don't have hands like an adolescent E.T.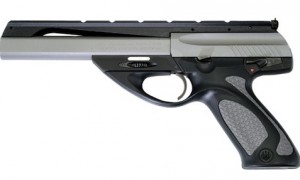 This is why I've never bought one.  I can't even hold on to the thing.   However I've sold it to people with smaller paws than mine, and they have loved it.   Never have I sold one to a guy with bigger hands though.   Look at Ruger… They have the option of a .45 like grip frame.  Do that, but with maybe your Storm.  A Storm like grip frame.  Seriously Beretta, as much as you guys may like this thing as it is – at American Gun Counters, it turns off far more people than it impresses.
The Storm Series: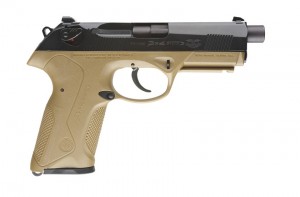 I love the Storm Pistols.  Two things though… the Sub Compact with the tilting barrel…  Get rid of it.  It does nothing the Compact can't do and it's using a different action so it's not really a sub compact version.  The SD as shown.  Where are the 9mm and .40 cal versions and where is the Compact version?  Remember when the Navy bought a lot of HK pistols recently?  They bought the compact version of the HK45, and not the full sized.  Huge handguns are good… but sometimes those Operators who operate operationally need something a bit smaller so they can conceal them.   And US Citizens like do something called EDC with guns with many of these features.   That Midsized handgun is the sweet spot, and you need to maximize that.
This Thing:


I could write a 2,000 word report on everything wrong with this thing alone… But I don't have time.  So I'm going to quickly outline what it needs to fix it.  It needs a major work-over.  The pyramid iron sights… Kill it.  Run a full rail across the top end to end.  Let customers use AR style irons of their choice.  No one likes these sights that doesn't work for Beretta and have to say they do.   Extend the the body out till only an inch from the muzzle.  Thread the barrel.  Give it a thread cap.  Threads should be a common type.  Supply a flashhider/muzzle brake with it.  I like the lack of rails on the side and bottom, but put mounting hardware in there so rails can be added where needed.  The bottom of the pistol grip makes fast reloads a challenge.  Shape it like a normal pistol grip.  The Bolt Release needs to be a Safety.  On both sides, make it ambi.  Push the bolt handle out front and give it an HK style bolt catch and release.  That stock.  Get rid of it.  Put on a SCAR style Folding/Adjustable stock.  Done.  Now just rename it.  Your other rifles are the ARX series… call this one the ARX9 or ARX40 or ARX45 per caliber and you have a WINNER.   You'll sell more than you ever had before.
I'm only going to touch on 1 shotgun.



I want a pistol grip version and I want the feed tube to run out to the end of the barrel.   Make these options.  I also want mounting points at the front end so I can attach a short rail section to add a tactical light.  That's it.  Simple.