Bar none, the Triumph Thruxton R is my favorite Sport Bike on the planet.   First off, let's talk about the Looks.  This bike is drop dead gorgeous.  It looks like what a motorcycle should look like.  This is the modern quintessential Cafe Racer, from the company that pretty much invented the Cafe Racer.  This is a two-wheeled Audrey Hepburn… always good looking, never goes out of style, and will still be good looking 200 years from now.     But under that classic good looking exterior, this bike is truly a modern machine.
The 1200cc Parallel Twin is a pleasure at every position of the Rev Meter… it has plenty of usable power, and I've never felt the bike lacking in Pull.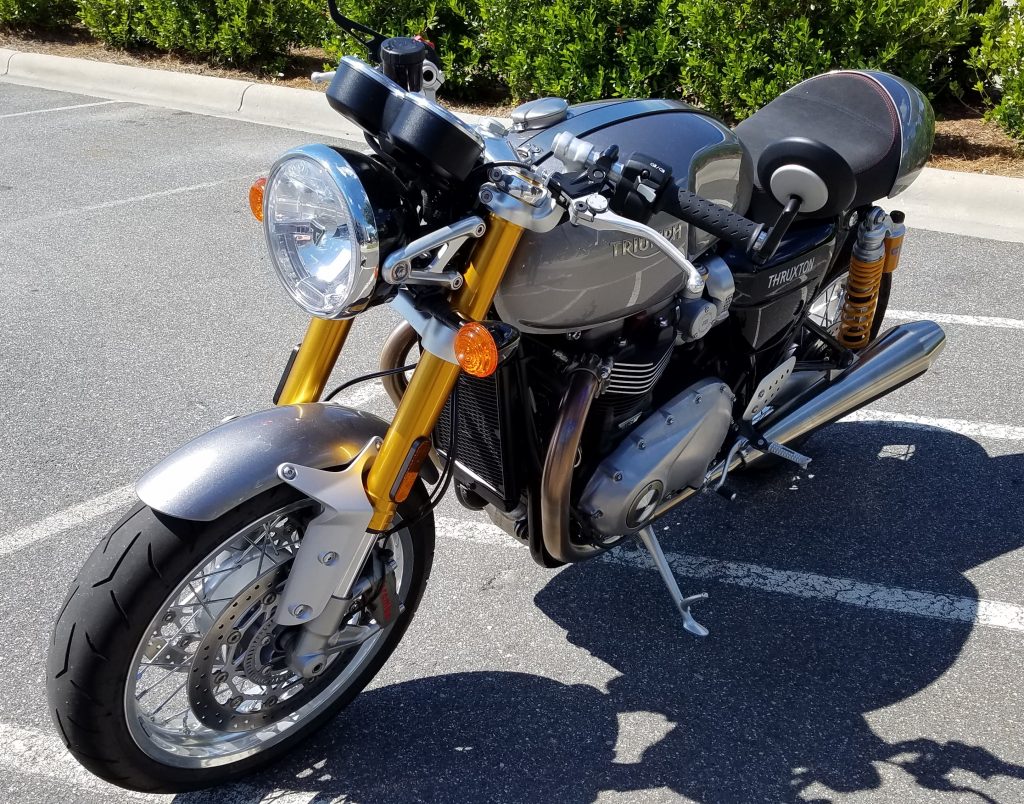 What makes this engine so good is the Ride By Wire technology that gives us three different and distinct Ride Modes.   In Rain Mode, the engine takes it time to apply power to the wheel.  Not so much to make the bike lethargic… but enough to prevent any wheel spinning shenanigans in wet or real cold conditions.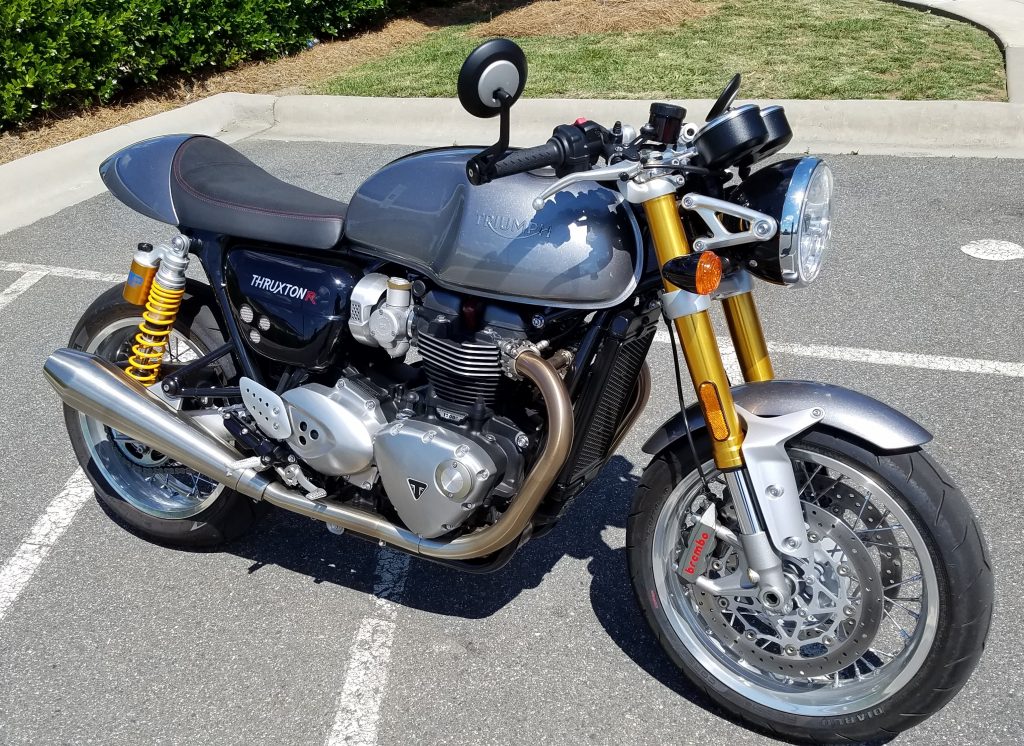 In Road Mode, the Bike is as composed, compliant, and forgiving as the T120 Bonneville.  The proper British Gentleman.    You can comfortably cruise on an all day jaunt through pleasant mountain roads… Perfect for the Blue Ridge Parkway.

In Sport Mode… Things change.  That British Gentleman suddenly becomes Jack The Ripper.  It gets aggressive.  It gets angry.  It gets straight up hostile… all with keeping that British Accent.  But you can attack the corners… carve that apex… and shoot out the turn's exit like a serial killer.  And then, when your done… put the bike back into Road Mode and cruise home like nothing happened.

I can't really ride dedicated sport bikes anymore.    My knees don't like it when my feet get tucked up like on a Panigale or S1000RR for more than twenty minutes.   But the Triumph Thruxton R is comfortable enough that I can ride it all day.

You can get the base Thruxton 1200's for a very reasonable price… and with that, you get the Traction Control, ABS, and the 3 Ride Modes.  For about 2 Grand more though… you can get the R Spec bike.  And that's what you want.  The "R" in the name, in Triumph Speak, means upgraded Suspension and Brakes.  You're getting the adjustable Ohlins, and the good Brembos…  If you plan on using the Sport Mode very much, you need the R.  Because you will be making use of those upgrades, and you will find very quickly that they are worth every penny.  Because this bike can truly make use of them.
I had the chance to Track a Thruxton R… and it cemented my love for it.  It's hands down my favorite sportbike.  It was before I got into the Motorcycle Industry, and it still is today.