The Sterling:  Designed in 1942.  Perfected in 2011.  Okay, that's a bit much… and it's cheesy as hell.  However during test firing today at Ballistic Testing Zone One, the Sterling didn't have a single malfunction of any kind.  The gun ran flawlessly.
It's a very soft shooting gun, with almost no recoil.  The action is a straight up Blow Back type, so the cases came out dirty, as is the bolt… but remarkably the ejection was very consistent, and only threw the brass a few feet.  Even during a full mag dump, the gun remained consistent and composed.  Also, it didn't even get really hot, something that some people were fearful about.  Don't worry about that.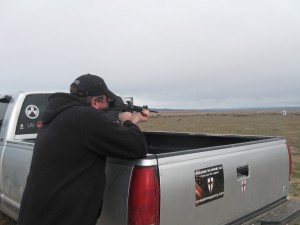 I can't speak of the accuracy, because I didn't put it on paper.  I was just blasting in the directions of some Cow Pies that were laying scattered around BTZ1.     The rear sight has two apertures, one for 100 meters, the other for 200.  I tried both, just for fun, and I think I'm going to keep it on 200.  Mine seems to be shooting low, which is fine.  Low hits can be adjusted.  I need to put this gun on paper, and I will later.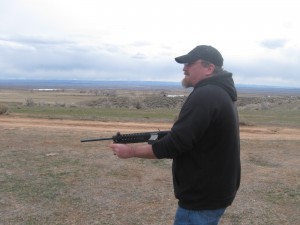 To contrast this from the previous Sterling I fired, it's almost like a completely different gun.  It's reliable, which is something the other Sterling was not.  It's smooth, which is different too.  Both guns were soft shooting, which is why I liked them, but this one is now closer to a Beretta 12 than the Sterling I had fired before.