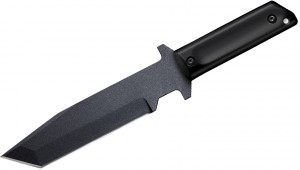 I'm tired of Tantos.  Once again the Tanto Rage is in full swing and all the new blades I've been seeing… the ones other guys are all "Look at this" all about… They are all Tantos.   The Tanto design is completely over rated.  While it has it's Pro's, I've found over time that the Cons are out-weighting them.   I'm not going to go into a Nut'n Fancy detailed breakdown of all the points and elements.  These should be apparent to you… you're a big boy and Google is your friend.
I use my knives a lot.  My "Tactical" knives – most guys keep them well oiled and unused in their "Kit".  Totally razor sharp.  In case of Zombies, or a call from SECDEF requesting the use of their particular sets of skills.   I'm not that guy anymore.  So all my throat slitting, 4/5 rib punchers get used for other things.  Like what they are designed to actually do – cut things.  Not "Testing" by chopping tree limbs, bending the blade sideways or all the other "Torture" tests people do.   No, I used them to cut things.  Like food.  My Combat Bowie?  That's become my favorite BBQ knife.    I don't care if a blade is forged by Hephaestus himself out of meteorite and the souls of fallen Samurai.  It's pulling KP over here.  It's going to open packages.  It's going to slice sheets of vinyl.  It's going to do the every day menial tasks that is of the peasant class, not the warrior class.

I've found that Tanto knives are cool looking, but they don't like to really work.   For the most part, much of the cutting ends up happening at the point of the blade where there should be a wide curve.  Instead there is a sharp angle.  This is an exaggeration of the original design and is a modern invention from fantasy.  And it puts all the cutting in real world use at that point.  Which will dull easily and quickly regardless of how elite the steel is.  Now, I'm not talking about swords or sword length blades.  I'm talking about knives.  One handed, and generally under 18 inches of blade length.
I feel no sense of history or belonging with a Tanto.  It's not culturally connected to my heritage.  Of course, the blade that does connect with me culturally is of little actual field use either… but I know it's a part of my family history in early times before they came to America.   These are actually good for deboning and slicing baked goods.   But that's not entirely the point either.   When I pick up a Tanto, there is no connection to my past in any way.   They feel hollow to me these days.   There is no feeling patriotism.   I have one tanto bladed knife left.  It was a gift from friends… I will never part with it.   All my other Tantos have been given away or just lost and I've not bothered searching for them.
My favorite blade, that touches on my American Heritage, and makes me feel that sense of "this belongs here"… are the Bowie Knives.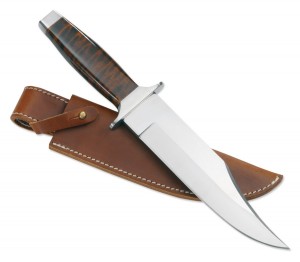 Bowies can be big and beautiful.  They can be elegant and refined.   They speak of our Frontier History as a razor sharp national icon.  The Bowie is as American as the 1911 pistol and a Harley Davidson motorcycle.  The actual history of the Bowie has some questions as to the design.  The first Bowie Knife designed by Jim Bowie, carried and used famously by Jim Bowie… we don't know what that knife looks like.  Or the actual size.  It was just reported to be a big freaking knife.   But the modern style of what we call a Bowie fills the void of details just fine.  The style is unique in a large blade, and translates well into smaller blades.  It's beautiful and it's effective… and best yet it actually works.

Now, I'm not about high polished elegance and all that.  I like working blades.  Just like my guns.  They need to speak of their use and capability.   They need to tell you just by their appearance that they will do horrible things to you.  They need to tell you to be careful with them… and that they don't care if they have to hurt.   That's a real Bowie to me.   One of my favorites that says all that is from ZOMBIE TOOLS.   These guys got the Bowie just right.  And added some serious DGAF attitude.
I think that's probably the #1 thing that Tantos just don't have.  Attitude.  They don't don't have that machismo.   CHARACTER.  The most interesting man in the world wouldn't carry or use a Tanto.  Most importantly… a Tanto is unfit for use in preparing and serving BBQ and spending the day Grilling.
Go get yourself a damn Bowie Knife.