I've not come to terms that Jeep is now owned by the Italians.  Fiat of all things.  Who could have guess that would happen 20 years ago?  Fiat, the makers of cars that break down more often than cars from Jaguar.  Fix It Again, Tony… now has Jeep in it's pocket.  This is the automotive equivalent of Jennings owning Browning.   It's an absurd notion… But Fiat made some good moves and positioned themselves to buy Lancia, Alpha, Ferrari, and Maserati… Unbelievable.  Now they own Chrysler, Dodge and Jeep.  Boggles the mind.
I think that this is the reason that Jeep is probably the most Bi-Polar of automotive brands.  When one says "Jeep" it invokes a mental image.  One of rugged outdoorsiness.  A majestic warrior off-roading rig perched on a mountain ledge like the Lion King, chin into the wind and looking stoic.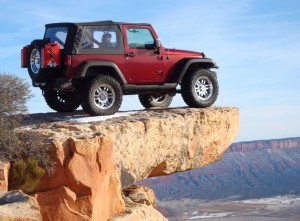 That's "Jeep".  That's what we think about.  We think about taking Jeeps through deserts and mountain trails hunting Orc and Adventure.  And that's been The Jeep Thing for decades.  But unfortunately Jeep has become this:
The new Jeeps, the Patriot and the Compass are a pair of Dodge's trying to look butch.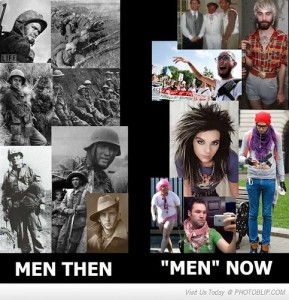 This is Automotive Evolution gone wrong.  While some companies are making better and better vehicles all the time, Jeep is kinda… going the wrong way.   These butch little Mall Hunters are not keeping in the spirit of the brand.  The Identity.  I swear to heaven that I saw "It's a Jeep thing" on the back of a Compass.  Do you know why?  Because people are forgetting what a Jeep thing is.  This is an utter failure of the Brand.  To keep up with the Lion King train of thought – this is most fitting:

Jeep needs to Remember.  They need to kill off the Compass and the Patriot.  Get rid of these pathetic little Cute-Utes and return to it's core.   To do this, they need to bring back two vehicles in updated versions.  First.  The Wagoneer.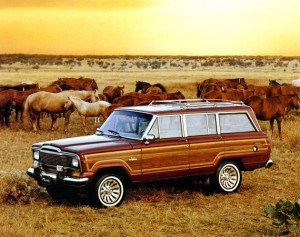 Jeep has defecated on the Wagoneer badge… Used it like a Trim Package that just put terrible wood patterned vinyl on the sides of Cherokees and Grand Cherokees.  I'm talking about bringing back the real thing in an updated version.  A real honest Wagoneer.  Full sized, no apologies.   Jeep doesn't think this can work, so they have not done anything of this sort.  But it does work.  And I can prove it as evidenced by exhibits A, B, C, D, E… I could go on, but you get my drift now.   Jeep had that.  A full sized, luxurious, commanding vehicle that could carry people and cargo and tow just about anything that needed towing.    I still see them on the road once in a great while… and they are beautiful.  I had one once… and letting it go was a huge mistake.  It was awesome.  Jeep needs to bring this back.  Do some Retro Styling on it for the sake of Identity, but build it on a RAM 1500 platform.  Body on Frame.  Give it some off roading chops.  And give it three engine options.  The 6.4 liter "392" Hemi for the Petrol Guys.  The 3.0 Liter V-6 EcoDiesel, for those family guys wanting economy and room.  And for those that need to tow heavy things… the 6.7 liter Cummins Diesel.   Give it three Jeep trim levels.  The Limited, the Overland and the Summit in keeping with current Jeep SOP.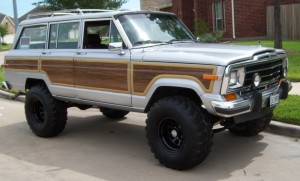 And maybe a stripped down version for the Die-Hard off roading Jeep Enthusiasts.  Keep it simple, straight forward, honest and truck-like and guys will cheer and sell their houses to buy it.  Ram does this with a version of the 1500 truck and it sells well to those guys wanting to hotrod it out.
The new "Cherokee"?  I hate it.  It may be a decent all roader and something people are wanting – vehicle class wise.  But come on.  For the love of all that is holy at least make it look like a Jeep.  Make it look like a smaller Grand Cherokee with similar styled lights and grills.   What you have now is alien and disgusting.

Not in a good familiar and hot way.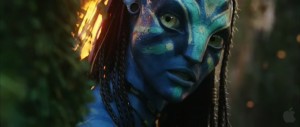 You get my point?
The other vehicle you need to bring back… Is one of your pick up trucks.  There was the Comanche and others… and they didn't sell well, because Jeep was owned by people who didn't know what they were doing.  But they did make a solid truck.  They just didn't know how to market it.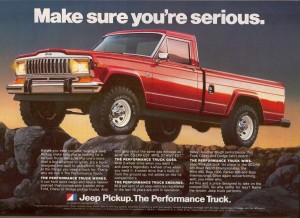 People want Jeep Trucks.  And they are willing to pay for them.  Do you want to know how I know?  See the Brute and tell me people don't get weak in the knees like that.   You guys tried with the Comanche. But that failed because quite frankly, that was a stupid idea.  Cutting down a unibody into a pickup?  Who's idea was that?  It was so bad, that your Dealers had to ask you to stop it.  But the Brute shows us something.  The Brute shows us that Gladiator Concept was a good idea.   The problem with the Brute is that it's expensive as hell.  Too expensive.   As is everything with a Jeep badge these days… but the Brute is just stupid expensive.   You get what I'm saying.  Make the Gladiator and make it simple.  If you did that… Adventurers would be applauding around the world.