92FS & 96FS.   Standard Beretta 92/96 series. 3 dot sights.  This is the classic.  Used in every movie ever made through the 80's.  Used by Law Enforcement around the world during that time.  It's a great looking handgun.  Solid.  Accurate.  Reliable.  Shooting it is like driving a Cadillac.  Much like the Cadillac's of the 80's, which were overly large, heavy, and under-powered.  Yes, we make holsters for this.
M9 Commercial.  Same as Military issue.  Uses dot-bar sights, but otherwise identical to the 92FS.  Used by just about everyone in the US Military who has no choice of what pistols they are issued.  Those who have the option tend to roll with the SIG P226 or a 1911 (Looking at you, MARSOC) or really whatever they feel like at the time as long as it's not the M9.  Still, the M9 is a great pistol and will always be a great pistol.  Yes, we have holsters for this.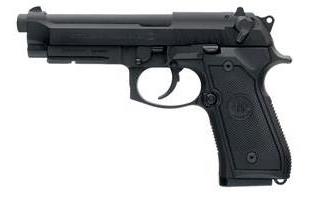 M9A1.  railed version of the M9 with checkering.  Notice the straight and flat forward edge of the Trigger guard.  You can see this was built to not just have the option of a light mount, but to actually run with a light mounted to it.  I think they had the X300 specifically in mind when they designed this gun.  Yes, we have holsters for this.
92A1/96A1.  Railed version of the 92, but with a dovetailed front sight post, internal recoil buffers in the 96 version, no checkering like the M9A1, and note the rounded trigger guard.  The rail is Picatinny and not the normal universal rail.  This rail is bigger than the normal rail, which requires a completely different mold which we've not made yet.  Beretta made this gun different from everything else, not because these changes made for a better pistol, but because Beretta doesn't like you, or concepts like "compatibility".  NO, we do not have holsters for this at this time.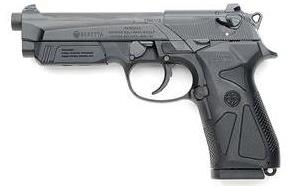 90-Two.  Rounded trigger guard, new grips, and note the new slide profile.  Sights are dovetailed, there is an internal recoil buffer, and note that the rails come with a removable Rail Cover over them.    No, we do not have anything for this one, and we don't need to as Beretta has killed off this gun.  Probably the best of the 90 Series guns Beretta has made.  And it's a great looking and feeling gun too.  But it didn't sell very well, because Beretta doesn't know how to market their tactical guns.  That, and they gave it the worst name they could have possibly given it.  How do you say that?  "Ninety Two".  Just like their other gun, the "Ninety Two".  Brilliant.