My favorite gun is the classic old Remington 870.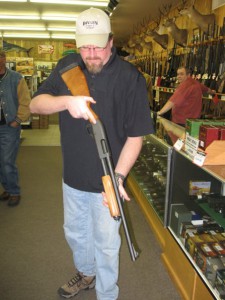 I've got one just like this one… And it's my personal favorite.  An old Police trade in.  Very basic.  Mine has a two shot extension, but otherwise identical.
Here it is… that one is mine.  And out of all of my 870's, this one is my favorite.  With the rifle sights, I was able to nail a zombie twice in the same eye, holes overlapping, with Remington 3″ Sluggers at 50 yards.  I'll take that level of accuracy with a smoothbore any day.
That accuracy is why we recommend rifle sights on our Crusader shotgun builds.  This allows for greater accuracy without sacrificing target acquisition speed.   Ghost Ring sights are great with buckshot and okay with slugs… but slugs don't give you the degree of accuracy you have with Remington's standard Irons.
Here's the thing though about the 870.  It does everything.  Other than long range sniping, the 870 gets the job done.  And it can usually do it very well.  Especially if you selected your load correctly.  It just works.  Very boring.