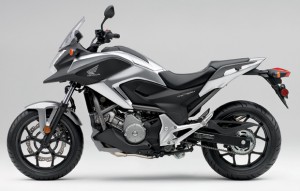 Honda, and every Cycle Rag that I've looked at lately are all spouting off that this new commuter standard is a "Game Changer".
Okay, I took this at face value the first couple times I heard it. Its an interesting looking bike.  Clean lines.  Some nice MPG numbers. A trunk where the fuel tank should be.  I wanted to like this bike.
And then I took a close look at one in person.
I don't like it.
If this is a game changer, I don't want to play this sport anymore.  But I don't know why that is.  But there is something about it that is off-putting.
The engine is just fine for the intended purpose… but it doesn't offer anything more.  "Spirited" is something it will never be accused of being.  The engine is pretty much the engine of a Honda Fit cut in half.  You've probably seen the Honda Fit rolling around, when I was out in SLC last week, you couldn't throw a rock without hitting one.  Being based on an automobile engine does have some advantages perhaps.  Commonality of parts, cheaper parts.  Really, Honda was quite clever in this.  The engine is lower revving than most bikes, getting much of it's torque well below 3,000 RPM's.  And that's a great thing, as I like to keep the revs down anyways.
And the 680cc engine allows for a very narrow bike.  As there are only two cylinders side by side instead of the normal 4 that's popular in many street bikes.  My beloved Magnas for example had 2 side by side… of course there were also 2 more in a V going in a different angle, but still.  I loved my last Honda Twin… My Superhawk.  I loved how narrow that bike was.  It was a 996 that felt as skinny as most 600's, if not more so.
I like the trunk, but I don't want to sacrifice performance for something that a tank bag can do.  I don't see myself storing my bucket in the trunk anyways.  I'm in the habit of taking it with me anyways.  I guess this is from having a few helmets stolen.  BTW, who the hell would steal someone else's helmet?  That's a very low level of scum.  If you catch someone stealing a helmet – that should be justifiable homicide right there.   Anyways, but having a nice storage compartment would be handy.  A couple DVD's a can of Xing Tea or two, some snacks.  That's something that would indeed be handy.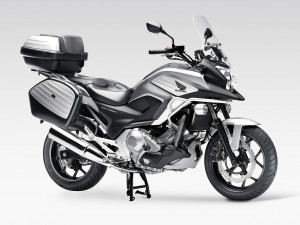 Of course Honda also has number of other add-ons.  Such as hard luggage.  Turning this little commuter into a nice little Touring machine.  Notice that Center Stand.  Handy that.  I had a bike once that had one.  I liked it.  Of course I wrapped that bike around a tree so hard the engine popped out and they had to cut the tree down to get the bike off it.  But that's another post for another time.  Anyways, yeah, that luggage… That top truck unit… that's 600 bucks for that one trunk think alone.  And you can't buy just any aftermarket trunk for it, because then you couldn't refill your bike because of the fuel cap location under the passenger seat.  (Talked to the dealer about it.  Evidently that was a problem for a guy.)  So you have to buy it from Honda.  I've never seen a plastic box worth 600 bucks, but there it is.  Still, even dressed out, you still have a nice bike that rides about as relaxed as you can get, turns in great fuel economy…
But I just don't like it.  In fact, I kinda hate them.  It's too… "Nice".  It's almost a Scooter in it's Civility, and I hate that.  It is about as Sporty as a Guy that wears Cardigan Sweaters.   It's a bike for a guy that has had his balls cut off.  In fact, they should call this bike the Honda Eunuch.