One of the things I did at the range today was to put my slug gunning to the test.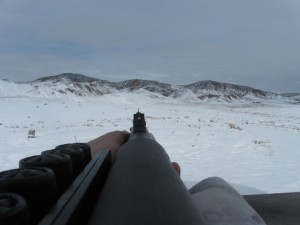 300 yard target plate.  I missed once or twice, finding my hold.  Then hit it at will. Then I turned my attention to the 400 yard target.  I pictured the ballistic arch in my mind, held the sight accordingly, and made the hit.
I have no video of this, but I have an Air Force EOD Tech as a witness.  My friend Nightcrawler was there and saw it.  So he can testify that I'm not making such crazy bold statements off the cuff.
Now, I have to ask myself.  Is this even useful?  Well, look… I was shooting a 1 ounce Winchester Super X 2 3/4″ rifled slug.  Yeah, that's a big chunk of lead hitting the target… but at that range, that Slug has little energy left.  It hit… but did it hit hard enough to do anything?  I'm not going to volunteer to catch a slug at that range… not even at 800 yards…  But for hunting?  No… not an ethical shot, even if I knew I could put that round in the vitals, I don't trust that it has enough energy left for the trauma and tissue disruption required for a clean kill.  In a fight, would it have enough power to punch through heavy clothing?  I don't know.  If I was in an ambush situation, no… I'd wait till the targets were closer.  If I was being engaged however, I know I could return fire and at least make the threat duck or reconsider his life goals.
Now, at 300 yards, that's different.  The sound of the slug smacking that target plate… it had some thump to it.   Making that shot was much easier, quicker to engage, and the threat would have been certainly dropped.  On a game animal… I don't know just how clean a kill that would have been… but that critter would have been dead.
When I get a laptop that can process video, I'll make a video of this so you can see it done in real time.