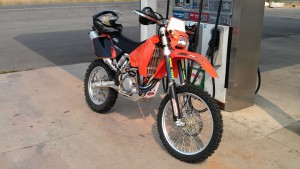 I've wanted an Enduro for years.  And I've wanted a second bike to add to the Ogre Ranch Stables.  Finally brought it home.  It's a KTM 525 MXC… I've probably mentioned it before.  Well, the deal is done and the bike is mine now.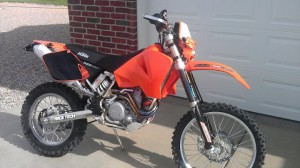 The bike is in brand new – seriously, like it's never been ridden, brand new condition with a ton of upgrades.  First thing I have got to do to it though… is lower this beast.  It's tall.  I'm talking, big time, Shaq Attack altitude.   To give some perspective, here it is with my Superhawk…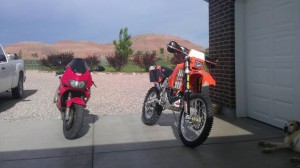 The bikes were parked almost completely side by side, with the Rear Tires up on the concrete pad… The KTM is a big machine.  My ZX-11 isn't much bigger than the Hawk was in physical size, and the KTM is just dwarfing it.  The riding position is very much upright.  It's like a Culture Shock Whiplash riding this thing.  Of course, the hard part is getting it going… and by that I mean getting up on it. I'm about 2 inches too short for it, or so it feels.  The bike was set up for Desert Racing, which it never had a chance to do, so it's in Desert Attack Mode right now.   Yeah, that's going to have to be changed a bit.  I need it in more "Dual Sport" mode.   She's Street Legal as she sits now, lights and everything… good to go.  But Tires and Suspension are set for Baja 1000.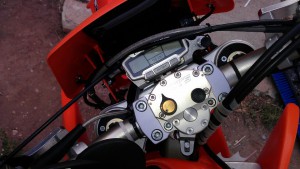 The big question:  Why?
Man, I don't know.  I just always wanted an Enduro.  I've been attracted to Adventure Touring.  Go freaking anywhere.  Up trails that disappear over mountains.  That kinda stuff.  Now I have the machine… I need to go do it.  It's something I've always wanted to do.
The biggest thing I got to get over is riding on Dirt.  I'll be honest… it scares the shit out of me.  I've not had good luck on dirt and gravel and such.  So this is me overcoming my fear of Earth.  Once I can do that – I'll be in a much better place psychologically when it comes to riding, regardless of what I am on.