Smith's new Shield pistol is going to be a rare find this year… but if you stumble on one – SNAG IT.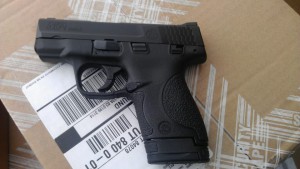 It's very compact, but because of the magazine extension, you can actually get a good solid grip on the weapon.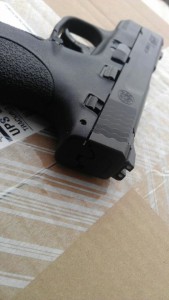 It's narrow, but not too skinny as to be awkward.  M&P Lines, so it looks like an M&P, not an upsized Bodyguard… Being a Striker fired gun, it's all M&P genetics here.  The safety lever is the only wart, but it's a very unobtrusive one… which means actually using the safety lever is more difficult and of course completely useless.  This is a Bodyguard trait that should have been erased.
Right now, they are out in 9mm.  But they have already gone out to the allotted dealers.  If you see one and pass on it… good luck finding another one in 2012…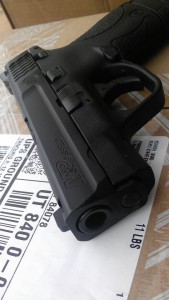 It's kind of like an M&P Compact's anorexic little sister.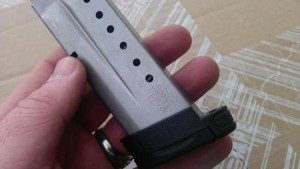 The magazine holds 8, so you are not giving up much on the M&P Compact.  They said they improved the trigger of the standard M&P's trigger… and that's true.  They did.  But there are already people out there working on an Improved Improved trigger for it.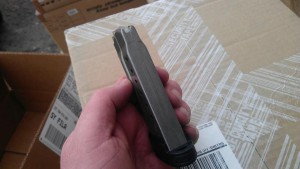 It's not a straight up Single Stack… it does have a slight stagger to it.  This is why it gets as many rounds as it has, and feeds well, and gives you a bit of a funnel for a quicker reload when you need it.
Overall, I'm impressed.  S&W's M&P line up is all excellent stuff and this gun is no different.  Let's see, there is the new SIG 938 and the new Beretta Nano, the newest of the Sub Compact Slim Nines… The SIG is a mini 1911 and thus in a class by its self… the Nano is a Double Action.  So while not a real Apples to Apples gun, the Shield smokes it.  The only thing really like the Shield is the Walther PPS and I think the Shield is a much better pistol.  It feels better in the hand, better trigger, and feels like a more solid built gun.   And, I believe, the Shield is less money  These are about 400 bucks and the PPS is, if I remember, about 500.  That's enough left over for a very nice holster.