My buddy Fenris purchased a SIG 1911 in .22.  It's not really made by SIG like their other 1911 pistols, but it's made by GSG for them.  The other GSG's are imported by ATI and are otherwise identical to the SIG, save for Grips and other Markings.
Well, Fenris and I took it out for the first time and we had a mixed box of random bulk rimfire rounds.  We fired 250 rounds through it. The accuracy was remarkable and the reliability was flawless.  Impressive for any rimfire…
Now SIG has a new version…  One I like a bit more.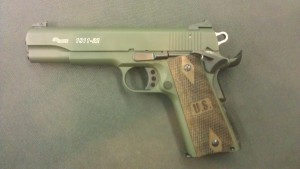 Oh baby… That's a good looking .22 Rimfire pistol right there!  Yes, t really is green… OD Green with simple walnut wood grips.