As I said before, I have a Top 3 list of SUV's.  I've studied the current market in detail, and compared all the vehicles in this segment.  I've dismissed the Cross-Utes out of hand as they are not true SUV's.  This does not mean that I've dismisses a Unibody construction, but vehicles bases on car platforms and then swollen into a taller hatchback.   So here is my top 3, but not in any specific order.
Number 3:  The Toyota 4Runner.

This is one of the last true Truck based SUV's in it's class.  This is a real Body On Frame rig here, and that gives it some some advantages over the rest.  Towing, off roading, and otherwise not being ever mistaken for a Girly-Ute.  Just look at it… It looks pissed.
4.0 Liter V-6, 270 Horses, room for 5, and rolling 17 City/ 21 Highway.
While the 4Runner is under powered, it's high degree of off roading chops give it an advantage.  But it loses points for not being made in the US when Toyota is making other vehicles here.
Number 2.  Dodge Durango.

The new Durangos look awesome.  Aggressiveness personified.  A lot of the stuff under the skin is actually Mercedes developed.  This gives it some advantage over the older Durangos.  In fact, the new Durango shares nothing more than the name with the older rigs.  These are now unibody rigs, which is not a bad thing.  Dont call them a cross-ute though, as the platform is shared with the Jeep Grand Cherokee.  In fact, they are coming out of the same factory.  Unlike the JGC, the Durango doesn't pretend to be an Off-Road Warrior.   These are build for streets, with occasional Soft-Roads.  Most SUV's live on pavement only anyways.   I didn't pay the new Durangos any mind because of this… at first.  Then I saw one in person.  A local LEO friend drives one now, and It is 100% Bad Ass.  His is the R/T version.  I really love the looks.  It makes me question just how often I would go off road… the answer is probably more than the Durango would be comfortable with.
Number 1.  Jeep Grand Cherokee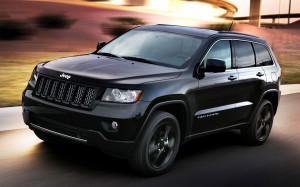 The new JGC is that guy you always hated… You know that guy, the one that is good looking with the trophy wife and everything always falls into place for him and he always wins everything… that guy.  The JGC is that guy in automotive form.  It does everything pretty damn well, and it looks great.  The V6 version does good on gas too, for a vehicle in this class.  The V-8 version can tow 7400 pounds…. enough to pull a Senator's arrogance.  And it can off-road very well.  Not really Moab rock-crawling, but you can easily go trail exploring.  The SRT version though, it goes around taking lunch money from sports cars… sports cars built in Italy.  But the one I like the best is the upcoming diesel variant.  That gives you over 700 miles range per tank.  That's amazing to me.  The only problem I have with it, is I like the looks of it the least.  And there are a million of them around town.
All three have solid good points.  All three have downsides… well… except for the JGC.  I'm still trying to find actual faults.